North Robotics Club Competes in VEX Robotics Turning Point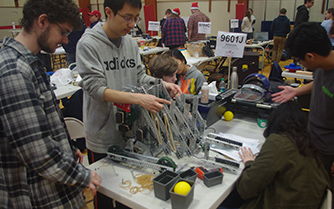 Hang on for a minute...we're trying to find some more stories you might like.
On Saturday, Dec. 15, the Parkway North Robotics Club placed 21st out of over 40 teams in the VEX Robotics Turning Point competition at Kirkwood North Middle School.
The club, nicknamed "Robohobos", was divided into 3 teams, each with their own robot.
"Currently we have three different robots: basically a varsity, JV, and freshman team. Senior robotics team members help teach and develop the skills of the younger less experienced teams," said sponsor Brandon Franck.
The teams competed on a 12-foot by 12-foot field, where their robots had to score points by flipping discs to show their team color and launch balls into a flag to point it towards their team.
"There are four robots on the field split into alliances that work together to score as many points as possible," said Franck.
During the competition, the senior team's robot began having hardware issues.
"We placed in the middle due to mechanical issues such as a broken shaft and a strained sprocket and chain system," said senior Joshua Monsey.
This resulted in the robot having difficulty scoring points. Jerod Peterson, who was the team's lead programmer, was not dismayed by the results.
"This really isn't that bad considering we have half the robot's space allocated to a ball launcher which was not usable, and we had placed last at the last competition," said Peterson. "This isn't a reflection of out competence though. It is because our robot was designed to perform every function to score points, while many others focus on a single one, making it much harder and time-consuming for us to troubleshoot and build."
The "Robohobos" spent time planning and preparing before constructing their robot.
"Throughout the beginning of the year, there's a lot of planning and preparation before any building takes place," said Franck.
Although the club met throughout the entire first semester, they buckled down near the end for construction.
"We had three meetings until 5:45 p.m. before the competition," said Peterson. "We were still working on the construction of the robot as a lot of it was malfunctional at the competition before. For most competitions before the second semester, there is usually very little testing as the construction is incredibly time-consuming."
Next semester, they will be preparing once again for another round. Their next competition is Jan. 12.
About the Writer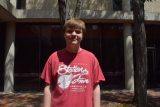 Tanner Boyd, Writing Wizard




My name is Tanner Boyd, and I am currently a Writing Wizard for the Norsestar paper. I joined the staff last year as a Junior, and have enjoyed...