North Recognizes Importance of Martin Luther King Jr. Day
On Jan. 21., students will not be attending school in order to honor Martin Luther King Jr. on the American federal holiday, Martin Luther King Jr. Day.
Martin Luther King Jr. was an African American social baptist and civil rights leader during segregation who fought for equality amongst all skin colors. He spent years behind the bars of a Birmingham jail for his activism, resistance against authority, and awe-inspiring speeches.
However, many students forget the importance of this holiday and its true value in American history. As students scramble back onto their feet for the beginning of second semester, Martin Luther King Jr. Day becomes a secondary thought.
"I think a lot of people understand what MLK day represents, but every year I see more and more kids brushing it off as just another day off of school without really understanding its importance," said sophomore Michael D'Alfonso.  
Math teacher and Social Justice Action Team sponsor Joshlyn Harris believes it is essential for students to take a step back and recognize how much the world has changed as a result of MLK's actions.
"Students need to look back at our history and understand if we were here 50 years ago, you wouldn't be going to a Parkway North where there are all these different diverse groups," said Harris.
Parkway North embraces MLK's fight for diversity; it is the most diverse of all other Parkway schools in the district. According to US News report, minorities comprise nearly half (49%) of the student body at North. This is compared to 37% of the student population at Parkway Central being comprised of minorities, 26% at Parkway South, and 25% at Parkway West.
"We're lucky enough to be the most diverse of the Parkway high schools," said sophomore Cris Lau, "People often underestimate the power of simple exposure, and being able to study alongside multi ethnic students is something I wish more people appreciated."
Instead of treating Monday as just a day off, students have many opportunities over the three day weekend to learn more about Martin Luther King Jr. The St. Louis Art Museum is hosting a remembrance of the struggle for civil rights. The event will include music, photographs, and keynote speakers. It runs from 7 p.m. to 8:30 p.m. on Jan. 21, 2019 in Forest Park. The public also is invited to the Old Courthouse in Downtown St. Louis at 10 a.m., for a special ceremony with speeches from local leaders. At 11 a.m., participants will march from the Old Courthouse to Washington Tabernacle Missionary Baptist Church.
In addition to the diverse, inclusive environment at North, principal Dr. Tori Cain believes it is important to highlight MLK's peaceful protests.
"We all have a legacy; some greater than others," said Cain, "And [MLK] had such a large impact not just on certain people, but on all people. [MLK] believed in nonviolence. Yes, people did some horrible, vile things but [MLK] taught: how do we rise above this?"
Despite Martin Luther King's legacy of diversity and nonviolence, there are still improvements that can be made to the society we live in.
"Our understanding of civil rights comes down to 'slavery existed and it was bad' so much so that we still regularly sling racial slurs without realising that they were once created for the purpose of degrading African Americans," said Lau.
Senior Cecilia Wagner agreed: "[MLK's] dream is slowly but surely coming true. If I could tell MLK anything, it would be 'we are still improving but I hope you are proud of how far we've come,"
"[If I could] say one thing to Martin Luther King Jr., it would be 'thank you,'" said Harris.
About the Writer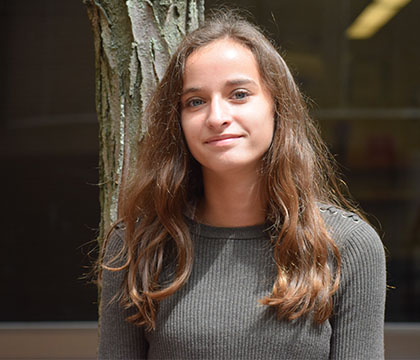 Tabitha Bevan, Radical Reviewer
Hello! My name is Tabitha Bevan, I'm a sophomore, and this is my second year on the Norsestar staff. Outside of writing, I enjoy running track and cross...