Theater Department Prepares for Spring Production of Our Town
Hang on for a minute...we're trying to find some more stories you might like.
As the dates Feb. 27, 28, and March 1 quickly approach, anticipation is building for the 2019 Spring Play, Our Town by Thornton Wilder.
For those familiar with Parkway North productions, Our Town is not the typical play. The play, set in the early 1900s, depicts the small (fictional) town of Grover's Corners in New Hampshire, Massachusetts. It is divided into three acts depicting the stages of life: Daily Life, Love and Marriage, and Death and Eternity.
"This show is actually very different from the last couple that we've done," said senior Sydney Eikmann, who plays Mrs. Gibbs (George Gibbs' mother). "This show is just the life of a small town, but it actually has a lot of nuanced ideas; Thornton Wilder is a really good writer."
The production features a minimalist set with the intent that the audience will focus more on the characters as their personalities develop and their stories unfold, as the characters are the essence of Our Town.
"Watching [actors] understand and realize the importance of the moments they're creating and starting to see how the whole situation fits together is my favorite part… All those little moments are going to meld together and create this tapestry that, hopefully, the audience is going to feel rather than just see," said North Theater teacher and director of Our Town, Chad Little.
Freshman David Brooks, who plays the Stage Manager, tells the story of its citizens, centering around leads juniors Cassie Schoene as Emily Webb and Javon Spearman as George Gibbs and their families. Brooks addresses the audience directly as well as plays a part in the play. This relationship helps the audience relate to the play and answers any questions.
"[The audience must] really think about what the characters are saying to each other because this particular play makes you think about  certain situations and topics that a character might face," said junior Carlson Fajardo, who plays Dr. Gibbs (George Gibbs' father), "Be prepared to really think afterwards about the play and the overarching message it portrays, even the little messages that you may pick up on."
Each actor has a unique part within the play. Everyone involved in the production is truly coming together to create something unforgettable for the audience.
The play "really takes a look at birth, adolescence, marriage, death… everything that has to do with life… It's something that will live with us forever. It's a message that will not only exist through the test of time, but you can even see in these early, early stages of civilization that it really presents a different message for everyone, [messages] that may not have been thought of before," Spearman said, "I'm really excited… It's just a great play."
"It's going to give chills. We finished wrapping up Act Three, and it's going to be really good as an entirety… I don't think I've ever really appreciated a play as much as I do this one," said junior Hannah Thiede, who plays Mrs. Webb (Emily Webb's mother).
Seeing Our Town could be an opportunity in more ways than one. With the climate of today's world, sometimes it is nice to remember that an ordinary life has a lot to offer and have the opportunity to discuss it.
"It allows you to see different viewpoints in a safe space and to see how people react and respond to things and solve problems," said Little, "Right now we are so divided and not willing to show empathy and attempt to understand another's point of view. Sitting in a safe theater space, watching situations unfold and being able to see both sides of a situation, I think is crucial to our humanity. Going to see shows, I think, allows us to see how much humanity there is left."
Tickets are sold at the door at $11.00 for adults, $8.50 for students, and $7.00 for senior citizens and ITS Members, but they are also available ahead of time at student lunches and online at pnhtheatre.booktix.com at just $6.50 per student, $8.00 per adult, and $5.00 for senior citizens and ITS members.
About the Writer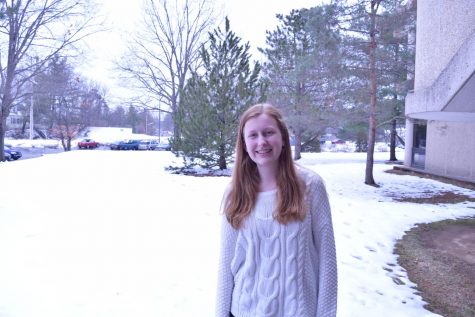 Sophia Strathman, Radical Reviewer
Hi, my name is Sophia Strathman, and I'm currently working as a Radical Reviewer on the Norsestar staff. I am so excited to be writing about things going...