Parkway Step Team Places First in Dallas National Competition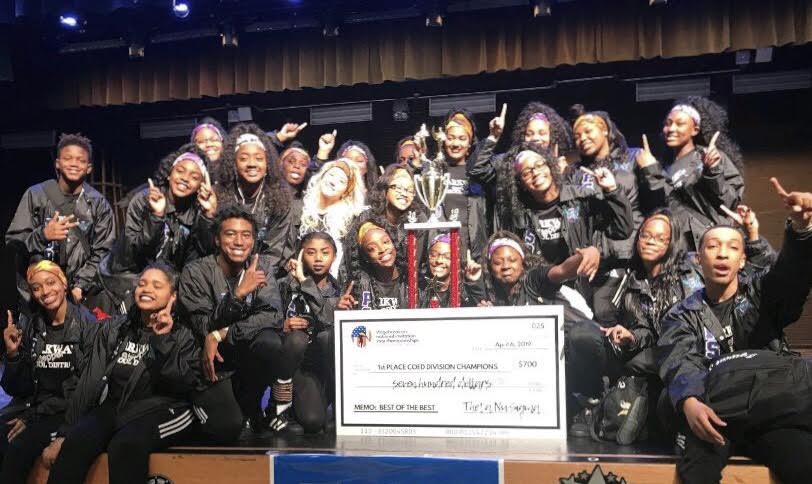 Tanner Boyd, Writing Wizard
April 16, 2019
During  the weekend of April 6-7, the Parkway District Step team placed first in the Stage Breakers National Step Competition in Dallas.The team had been preparing for this competition since August 2018, practicing after school every Monday, Wednesday, and Friday.
"They've spent numerous hours planning skits, creating steps, and putting the routine together," said program director Bee Jay James.
Up on stage, steppers would perform a mixture of footsteps, clapping, and spoken words to produce complex rhythms and sounds. In stepping, the body is used as an instrument, and teamwork is key. Sophomore Aaliyah Fortenberry loves stepping and enjoyed performing in the competition.
"It was fun. Being up there with your team and knowing you're going hard, is the best thing," said Fortenberry.
The team was determined to come out on top because of their recent performance at the Spring Showdown Step Competition in Virginia.
"Going into this competition, the team was very focused and nervous because they had just placed fourth place in Virginia two weeks prior and this particular competition the last two years they placed second," said James.
Freshman Kalyn Wheeler repeatedly practiced her steps at home so that she would have them memorized. When the competition came, she felt prepared to win.
"I was nervous at first when the curtains first opened, but then I just felt really energetic and excited to be with my team," said Wheeler.
When the results were announced, the members of the Parkway District Step team were so excited that some steppers burst into tears.
"It was a great feeling for them to finally get first place, and when they made the announcement the team and the entire audience went crazy with loud cheers, hugs, and tears of joy," said James.
With Dallas out of the way, and the first place secured, the steppers are now practicing for the upcoming Watch The Throne competition, which they will host at Parkway South.
I am so proud of this team for all they've done this season plus all the hurdles they've overcome," said James. "Now we are preparing for our own competition Watch The Throne at Parkway South High School on April 27 at 2 p.m."
Tickets for Watch The Throne will cost $10 in advance and $15 at the door.
"We are inviting everyone to come out to see teams from different parts of the country compete and to see us perform as well," said James.