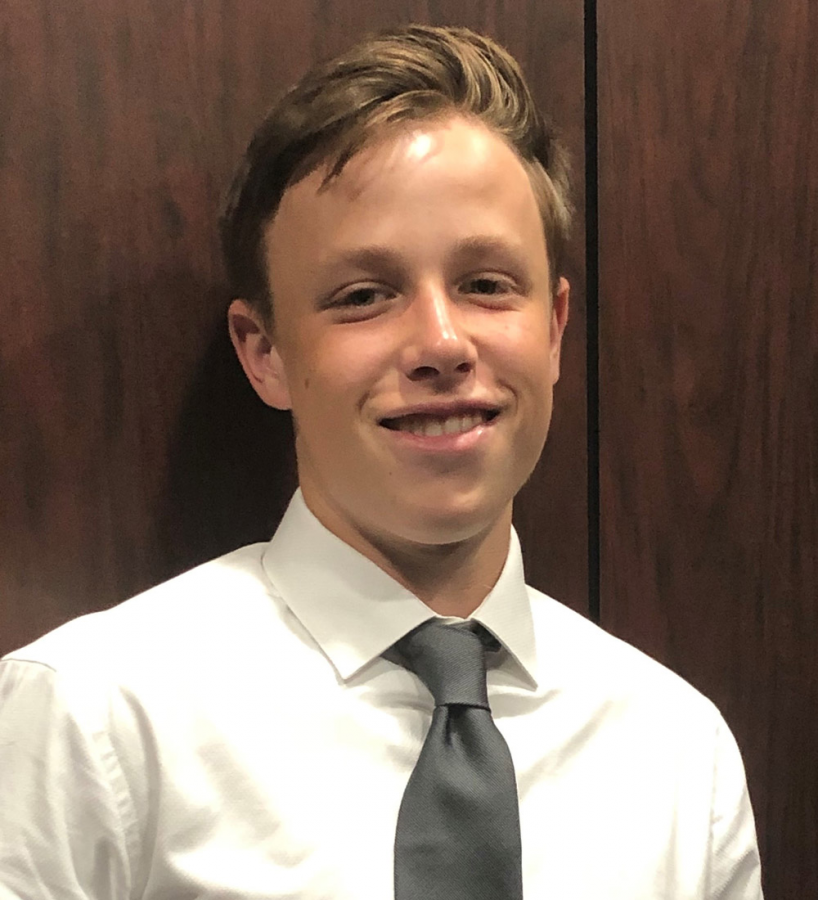 On April 7, senior Ben Parks, varsity soccer and baseball player, was highlighted  on 101.1 WXOS-FM, the ESPN radio station, as the 'Senior Spotlight'. Parks' interview was conducted by two former St. Louis Cardinals players: Brad Thompson and Chris Rongey.
"It was a cool experience to be interviewed on the radio. I have listened to 101.1 ESPN radio through my whole life so it was sort of surreal to be there," said Parks. 
Thompson and Rongey asked Parks about his high school career which  has been remarkable, both academically and athletically. He played soccer for four years, three of which were on varsity and two as a starter. He would have played four years of baseball, three of those on varsity and  as a starter of the season hadn't been cancelled due to COVID-19.
"It was sort of disappointing with all this coming out of nowhere, but it's something I've never seen before and I was really looking forward to my senior year with baseball, but it's just disappointing right now," said Parks.
Parks was a strong leader and was the captain of the soccer team his senior year. Parks was supposed to be captain of the baseball team this year, but the season was cancelled before it got started. . 
"Leadership is not just screaming and yelling but being a role model and an example to your teammates and coaches," said Jim Parks, Ben's father who is a coach at North.
Parks leadership and talent helped him get recognized as he made the All Academic Conference Team for soccer three times and won the 2019 Conference Sportsmanship Award. Parks made the All Academic Conference Team for baseball twice, won the 2019 Conference Sportsmanship Award, and received honorable mention for All-Conference Infielder. As if those weren't enough accolades, Parks achieved a 4.1 GPA and a 31 ACT score.
"[Ben] has taught us the importance of goal setting and working as hard as you can to achieve those goals. When things don't go your way, stay away from panicking and be ready for your opportunity when it arises," said Jim Parks.
Parks' opportunity came when he earned a spot to play on the Westminster College baseball program as a second baseman next year. At Westminster, he plans to major in finance.
"My main goal going into high school was to be able to play a sport in college and I was able to achieve that with baseball," said Parks.
Both of Parks' parents are teachers at North and have been able to help him throughout his high school career. Prior to spring sports being shut down Parks was hopeful that he'd be able to play baseball for North again before going to college. 
After the season was canceled, Parks was named the Parkway North Scholar Athlete. He looks back on what high school athletics have taught him and what memories it gave him. 
"I believe high school sports create friendships and help make the high school experience more special. It allows you to get involved with the school you go to. Both sports made some of my favorite memories: in a comeback against Pattonville to make it to the district championship on a walk off in the 8th inning and senior night for soccer beating Affton 8-0 on a mercy. I've created a lot of great memories and friendships from sports and learned a lot of things that I'd been looking forward to throughout high school," said Ben Parks.