Students Return to In-Person School Amidst Pandemic
As of Jan. 19, new safety protocols have been put into place in order to keep students who have returned to school in-person safe. Some examples of these new protocols include daily health screenings for staff and students before entering the building, mask requirements for everyone in the building and dedicated times throughout the day for hand washing and sanitizing. 
Being in-person for classes provides an upside for students who may have struggled academically and socially in the first semester due to having all virtual classes, but the new 4-day weeks are not ideal due to safety reasons.
"Many who chose to return, chose to return for the social aspect. Students missed their friends, visiting with teachers, going to sponsored events. This looks completely different now due to the COVID-19 restrictions in St. Louis County," said assistant principal Dr. Jada Bell. 
Some of the restrictions imposed in in-person school impede on the social aspect of education. Some restrictions include assigned seating at lunch, minimal hall traffic, little movement and group work while in the classrooms and staggered dismissal. All of this is to help with contact tracing and social distancing. 
"While these safety measures are very necessary, it's contrary to the very reason most students love coming to school, which has been one of the hardest adjustments," said Bell. 
Different aspects of being back in person are exciting for students; however, getting used to the in-person schedule after months virtual school has not been as easy as expected. Being in-person for classes also comes with its own set of risks.
"In the beginning, I was worried for the health of my family and myself. I was also worried that the workload would be more than online but so far it hasn't, so that is something I will see as we get farther in the year," said junior Nicole Jones, who recently returned to in-person classes.
While students are glad to be back in class, the new safety precautions, on top of limiting students' social interactions at school, tend to make doing class work more difficult as well. 
"We can't get up and do group stuff because we're stuck at our desks, so it makes group work a challenge. We sometimes have to use Zoom calls and do breakout rooms even though we are already in class," said Jones. 
Also, some teachers simultaneously teach a handful of students who are online while also teaching in-person.
"[Some] teachers [have] both in-person and online students. The major adjustment with the dual classes would be keeping both groups equally engaged," said Bell.
Students and staff are eager for things to go back to normal as safely and as soon as possible, but right now, that is not possible. North has reported a total of 11 positive cases among students and 92 students have had to quarantine while Central has reported 79 positive cases among students and 199 students have had to quarantine.
The district has implemented Distance Learning Days where all students and teachers are at home, learning virtually. During this time, the custodial staff deep cleans the entire building. This time also allows time to catch up on contact tracing and notify people when necessary.
Some students have even come up with ways to make being in the building feel more safe and comfortable according to their own standards. 
"One really important thing is to maintain proper social distancing in the halls. The halls aren't too crowded, but it's best to leave a couple of minutes after the bell rings because it will clear up by then. You can find empty tables at lunch, which makes me feel a lot more comfortable," said Jones.
About the Writer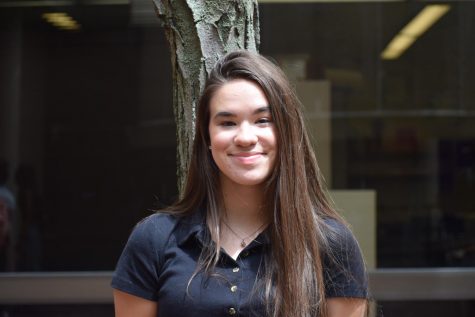 Vivian Richey, Writing Wizard
My name is Vivian Richey and this is my second year in newspaper. I'm interested in writing, makeup, and theater. I'm so excited to help this year.