Valentine's Plans Change During COVID-19 Pandemic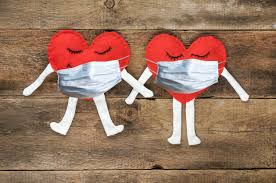 For the past 11 months, the coronavirus pandemic has made it more difficult for people to see their loved ones through social distancing and quarantines. Many countries have closed their borders to casual travel, effectively separating loved ones who live in different, respective countries.
"[My husband and I have] been together for 18 years going back and forth and we've never really had trouble [with that], but this year the borders are still closed, so… we've been apart since March last year, which is a little tough," said foreign language teacher Dawn Newport, whose husband is currently living in Australia. She, like many others, can't see her partner in-person this Valentine's Day.
She and her husband, along with many others, are spending Valentine's Day apart.
"In February, we're not usually together, because I'm teaching, so he just usually will send me some Valentine's gifts or something," said Newport. "Usually, my husband sends me flowers [which is] very nice because we can't always be together…  Sometimes I'll send him candy or something like that that he can't get over in Australia."
However, some couples are deciding to spend the day together, with some precautions.
"[To stay safe], we've both been tested and came out negative. Of course when we go out, we wear our masks," said junior Bailey Smith, who is spending time with her boyfriend this Valentine's Day.
Whether couples are spending Valentine's Day together or apart, there is a general opinion of the meaning of the romantic holiday.
"Personally, if you feel that [if] you have to make some grand gesture in order to show your partner that you love and appreciate them on Valentine's Day, but treat them as if they don't exist the other 365 days of the year, then you don't deserve to be in that or any relationship," said Smith. 
Practicing a healthy balance in a relationship is more important than ever during current pandemic times, which is a task more difficult especially for younger relationships.
"The most important thing is to be able to trust one another and feel confident with each other, more than anything else. Valentine's Day is just a day, and it's to celebrate love in general," said Newport. " My advice is that you just take it as a day, you think about all the days that you've had together, don't think about the time that you're apart and just make plans of when you will see each other and think about the good times."
About the Writer
Jordan Byrd, Staff Writer
Hi, I'm Jordan Byrd and I'm a sophomore and this is my first year in newspaper. I enjoy reading, listening to music and learning new things. I am excited...