Freshman Asish Panda Places Sixth In Chess Championship
Tanner Boyd, Writing Wizard
September 28, 2018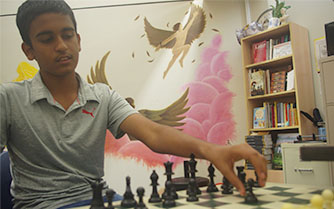 Over the summer of 2018, Freshman Asish Panda competed in the National Junior High Chess Championship, hosted by the U.S. Chess Federation. The championship was held in Atlanta, Georgia from April 6 to the 8. Players from kindergarten through 8th grade competed.
Panda first began playing chess in elementary school and started competing in tournaments a few years ago.
"I became interested around the 2nd and 3rd grade," said Panda. "I started playing tournaments in the 6th grade."
Panda was able to finish in 6th place in the National Junior High Chess Championship. Overall, he finished with a rating of 1970.
"If you get 2200 in the U.S., you'll get national master," said Panda.
Panda is interested in obtaining master titles so that he can earn scholarships.
"After I get my master titles, I'll just slow down and work on my high school scholarships," said Panda. "If you get a master title, colleges such as SLU gives you some scholarships, so I'm just trying to get there."
North currently has a chess club, hosted by Latin teacher Adam Stiller and English teacher Allison Cundiff.
"The average adult tournament chess player is around 1500," said Stiller. "For a young person to be up in the 1800's is very strong."
Stiller enjoys chess because it mainly focuses on personal skill.
"It's a completely fair game. There's no randomness; there's no chance. It's just skill and knowledge against skill and knowledge," said Stiller. "[Chess masters and grandmasters] are really good at chess because they have practiced lots of chess."
North has had a lot of talented chess players in the past. Cundiff remembers a senior from 2007 who competed in tournaments.
"I've coached the chess team for ten years, and the closest we have had to that [score], which is very close to master or grandmaster ranking, is from a graduate from 2007 named Jack Regenbogen." said Cundiff. "He was ranked very highly and competed in supernationals as a kid but was nowhere close to around 1900."
For the time being, Panda wants to focus on his grades before he continues competing in tournaments.
"I need to focus a little bit more on my studies since the grades will go to college. My parents want me to get all A's when I go," said Panda.
Panda hopes to continue competing in tournaments in college and even after he becomes a chess master.