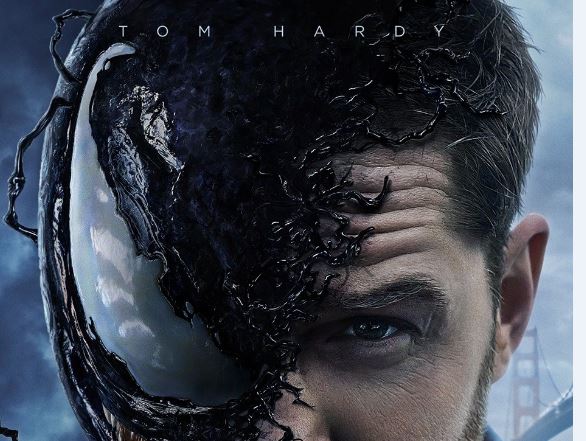 Ijeoma Nkenchor
Marvel and Sony's Venom hit theaters this week, setting the tone for Sony's new Spider-Verse. This movie delivers on the near horror movie tone a character like Venom would bring, but at the same time, there's a few good laughs along the way. With some fast-paced action scenes and an eccentric lead performance from Tom Hardy, this movie holds itself up as an enjoyable comic book movie.
This movie follows the life of journalist Eddie Brock as he comes in contact with the Venom symbiote. Venom is an alien creature that uses humans as a host for its monster like figure. The audience watches Eddie battle for control of the symbiote and battle the evil Life foundation.
If people are tired of the common superhero/comic movies trope, this may not be for them. Certain plot points seem to move forward without any development and certain questionable character decisions are obviously written in to assist the hero and keep the plot moving.
The chase and fight scenes, though exciting, are filmed with fast camera cuts which can be pretty disoriented. Usually, in a Marvel Cinematic Universe movie, the camera flows with the hero, like Captain America or Iron Man, showing every punch thrown. That is a big contrast from Venom's 'throwing your eyes around' style.
The score, composed by Ludwig Göransson, keeps your heart pounding during every scene. With electric guitar mixed with a classic orchestra, the mood can go from fast and violent to slow and suspenseful quickly. Göransson is best known for helping to produce Childish Gambino's music and composing the score for the movie Black Panther.
Tom Hardy does a lot to save this movie. The dialogue in this movie and the screenplay wasn't the best. Yet, Tom Hardy gets the most out of everything he's given and steals the show with his upbeat attitude and eccentric personality while at the same time balancing the line of overacting perfectly.
Venom also uses the duality of Eddie Brock (Tom Hardy) and Venom to touch on mental illness. Though the movie never outright says it, you see Eddie's happier, more jokeful personality struggle to control Venom's head eating predator personality, which alludes to bipolar disorder like characteristics.
Venom came into theaters with a hesitant audience, and in the end it, is not much more than a basic superhero origin should be. However, thanks to Tom Hardy's powerful lead performance, outstanding CGI, and an epic score by Ludwig Göransson, this movie still manages to be a fun and entertaining comic book/action movie. This movie gets a 7/10 from me.