PNH Theater Department Prepare for Fall Play, Bloody Murder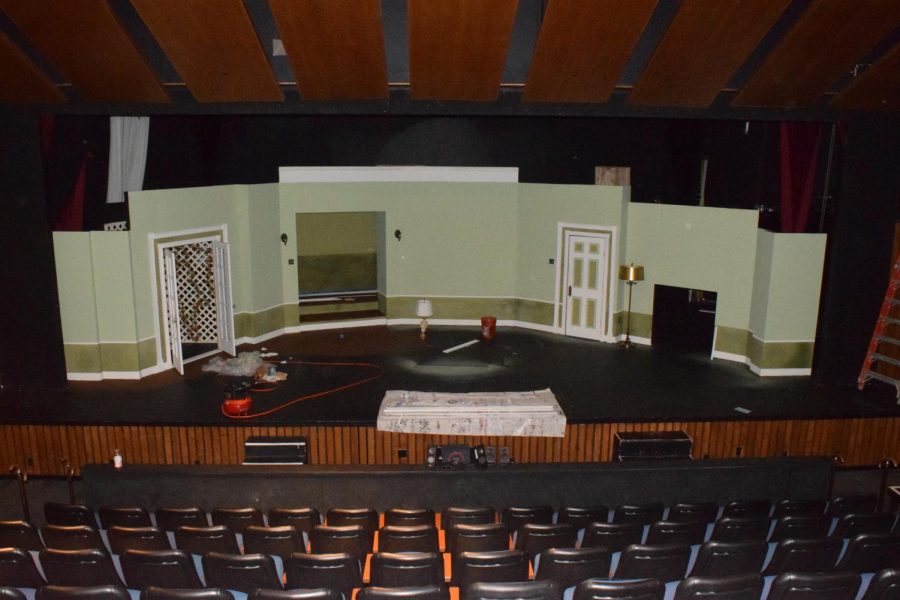 As opening night approaches, the sounds of drilling and screaming can be heard from the theatre halls. Final preparations are being made to ensure the success of the debut of the show Bloody Murder, a British comedy with a murder mystery twist, on Oct. 24.
"Bloody Murder is a Comedy Mystery. It is poking fun at the British Murder Mystery genre of novels from 1930 through 50's. [It has] very stereotypical characters you find in every one of them only with a different name. [It has] calculated plot twists that happen and red herrings that are supposed to make you think the wrong person is the murderer," said drama teacher Chad Little.
With all the incoming freshman joining theatre, the first show of the season holds a little more meaning.
"The first show of the year is always challenging because you do not know the incoming students from NEMS or another district. It is good to see eager faces who want to be involved," said Little
This year, the theatre department will be putting on two plays instead of one play and one musical. Since plays have fewer roles than musicals, there is more pressure on the casting portion of the making of the play. The difference between middle school and high school theatre also increases the pressure to do well.
"Theatre in high school is a lot more hands-on, and we get to build more sets and just overall do more than we did in middle school," said freshman Alex Kendall
"Theatre at North is different than it is at the middle school. We do not have as large of casts and there are three years of students who have more experience vying for the same roles. I worry about new students who audition for a show but don't get cast. Just because you do not get cast in this show doesn't mean the same thing will happen the next time," said Little.
Another difference between high school and middle school theatre is that high school theatre is almost entirely student-led. This is especially prominent in the tech aspect of theatre, being led by the appointed Tech Leads. This production will be the first show for some students to be tech leads on.
"My biggest obstacle is probably having to train all the new people because this year, we've definitely got a lot of new people that don't know how to use the power drills or anything," said junior Sam Barry, who is the new construction manager for this show.
There was also an increase in new members involved in the department this year, both incoming freshmen and North students.
"This year, there are a lot of new theatre members involved in [the play] so it's kind of like a test to see how they can improve our department," said junior Isaiah Mays, who is the sound manager for Bloody Murder.
When committing
to a new activity, there is the problem of time restraint. Especially when there is more than one thing going on at the same time, but learning time management is an important skill to have.
"Besides theatre, I'm in color guard and I'm in all honors. I balance it out by seeing what works best with each school activity. If you just work on your time management and organization, then it's fine," said Kendall.
At the end of the day, the students of the theatre department have created a show that they have worked tirelessly on for the desired end product.
"I'm looking forward to just showing what's all been made. Showing how much work we've actually put into the set," said Barry.
The show will be held in the theater Oct. 24, 25, and 26 at 7 p.m. Tickets are $8.00 for adults, $6.50 for students, and $5.00 for seniors/ ITS members, but ticket prices go up when bought at the door. They are on sale now and can be purchased through the ticketing site, Pnhtheatre.booktix.com. They can also be purchased at lunch.
"It's good to support your theatre department, but honestly we have an amazing cast. I'm excited to see who the murderer is," said junior Carlsan Fajardo.
About the Writer
Sara Hong, Assistant Editor
Hi! My name is Sara and this is my third year in Newspaper. I work as an Assistant Editor. I'm really into plays, musicals, and all that jazz. I was...