Select Choir Students Participate In All Suburban Choir Concert
Hang on for a minute...we're trying to find some more stories you might like.
On Nov. 3, choir students from around the St. Louis area gathered at Pattonville High School to perform in the All Suburban Choir Concert. The concert included a women's choir and a mixed choir.
"Each activity has championship events. For music, there is the All Suburban concert," said choir teacher Brian Reeves, "Any student, freshman through senior, can audition."
Sophomore Sarah Mueller decided to try out. Mueller is in chamber choir, which means that she has experience with mixed choirs.
"I auditioned because my teacher recommended it. The auditions were [held] at Marquette High School. There were two parts to the audition. [For] the first part, you go into a room and sing a [pre-designated] art song for a minute and the second part is sight reading," said Mueller.
The audition process proved to be intense and nerve-wrecking. Many students felt anxious about the uncertainty of getting into the choir.
"The judges have their backs turned," said junior Micah Schwartz, "and you don't know how you did until a few days later. Right before you're about to sing, you're breathing pretty hard. I was pretty scared."
Participating in music areas such as choir has many benefits, but the anxiety Mueller faced forced her into a tough spot during her audition.
"I forgot two measures of my own solo, so I sang my own stylized gibberish," said Mueller.
Despite the overwhelming anxiety, both Mueller and Schwartz made it into the All Suburban Mixed Choir. But getting into the choir is just the beginning. Students who are selected must devote hours to practicing and perfecting their songs.
"[The students] came in after school and in the evening and worked on their own to prepare for this concert," said Reeves.
Though being a part of Suburban Choir requires a joint effort, students do not get a chance to practice their songs together as a group.
"We practiced with [choir students from the St. Louis area] for the first time [on the same day of the concert] for two hours, practicing four songs before we had to go out and perform in front of hundreds of people," said freshman Dina Mcdowell. Mcdowell was one of only three freshmen who made it into All Suburban.
Finally, at 3:00 p.m., students adorned in their school choir robes entered the stage. Mcdowell was a part of the women's choir, which performed first followed by the mixed choir featuring Mueller and Schwartz at 4:30 p.m.  
"It's rewarding to see [the kids up on stage.] You get to watch them grow an individual musicians, and it's nice to see hard working kids receive a tangible result," said Reeves.  
About the Writer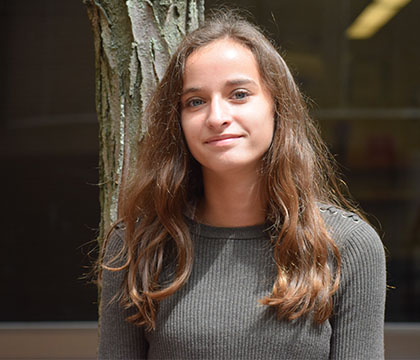 Tabitha Bevan, Radical Reviewer
Hello! My name is Tabitha Bevan, I'm a sophomore, and this is my second year on the Norsestar staff. Outside of writing, I enjoy running track and cross...