North Hosts Annual Mckelvey Fun Run
Diana Baeza and Laylah Little, Staff Writers
September 12, 2019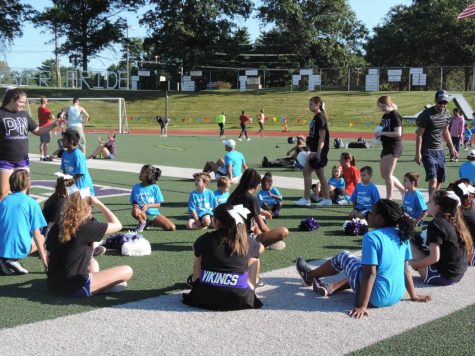 On Saturday, Sept. 7, 2019, Mckelvey Elementary held its sixth annual Family Fun Run at North's track. The Fun Run is a family-friendly event for all ages as well as a fundraiser to help both support Mckelvey students and teachers.
The event started at approximately 9:00 a.m. and ended at 11:00 a.m and with different events for each grade.
This year's event included the 25m dash (Preschool-Kindergarten), 50m dash (Kindergarten-second grade), 100m dash (third grade-fifth grade), and finally the 1-mile fun run/walk (all participants).
"It's a lot of fun and it helps the kids get active and outdoors and [helps them] have a healthy lifestyle. This is a really good activity to mix in with our other fundraising activities because it's a good time of year to get out and also it's a fun activity for the community," said Greg Homrighous, a recording secretary PTO member.
Along with the events, there were activities and games for the kids, including hula hoops, jump ropes, frisbees, and much more. Each participant also got a free t-shirt for coming and paying the registration fee, and food and bottles of water were provided by PTO members.
The money collected for registration goes towards projects and items that the state won't cover so "the PTO helps subsidize those things like plantings around the buildings," said Homrighous.
McKelvey's PTO hosts fundraisers several times throughout the school year. These include popcorn day, skate nights, dragon donations, Amazon smile day, and McDonald's day where the principal and staff go to McDonald's and serve food to the customers
"There are a lot of things that we do to raise money. Mostly the dragon donations, the popcorn days are popular. McDonald's will probably be one of our bigger ones. This is one of our bigger ones as well," said Homrighous.
The Fun Run was a success this year, with 160 people registered to participate.
"We've had a great turn out every year. We've been able to raise a decent amount of money every year to start off the year really good," said PTO president Nancy Strebe, who's been a PTO board member for five years.
Sponsors like Smoothie King, Fresh Thyme, and more donated snacks and materials for this event.
"St. Louis STL Shirt Company did the shirts for us. We paid for them but they gave us a discount," said Strebe.
However, the snacks and the T-Shirts aren't the only reason why families keep on coming back every year. It's the community and the people at that event that brings them back.
"It's very nice to see the McKelvey family get together, the kids run and enjoy with there parents and cheerleaders, and just the staff," said Angelica Lopez, a mother of three children.
Some parents, however, did have some suggestions that they would like to see in the future if there is a Fun Run next year.
"I'm having a lot of fun. Maybe some more snacks after or before for the kids would be nice," said mother Sashda Pearson
To help support the event, the North Cheerleading Program came out and cheered on participants.
"Every year has the cheerleading program come out and support them. We just come and cheer on the participants as their running and make sure everyone is having a safe and good time," said Lindsay Melnick, assistant cheerleading coach.
She also came to the fun run for her two kids and to enjoy the event.
"I have a good time, it's very kid-friendly so I get to bring my daughter, and my son gets to run around and it's just fun to see everybody out and being active," said Melnick.
"It's a tradition that we've done with cheer every since we were freshmen and it wouldn't be the same season if we didn't do the fun run." said varsity cheerleader, senior Gwendolyn Demsey.
"I always have fun, great the way it is," said senior and varsity cheerleader Maddie Pack.