North Theatre Debuts "The Diviners"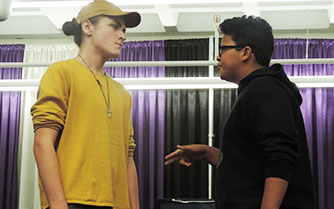 After weeks of changes, memorization, and drilling, the cast and crew of "The Diviners" begins making final preparations entering the Tech Week of the show. The theater department will present the show Oct. 16-18 at 7 p.m. in North's theater.
"The Diviners" by Jim Leonard Jr. is a two-act play about a small town in Zion, Indiana, taking place in the 1930s. It follows an ex-preacher, C.C Showers, and a mentally-challenged boy, Buddy Layman, as Showers attempts to help Layman overcome his deathly fear of water.
"[I enjoy] the difficulties in the character especially because [Buddy] does talk in the third-person and references himself the way other people reference him, due to his brain damage. It's more of a unique role than I've had before," said sophomore Jayden Coe, who plays Buddy Layman.
The complexity of the character in this play is one of the many reasons drama teacher and director Chad Little chose this play.
"I was looking for something to stretch the actors potential, to give them something harder to do with characterization, physicality and learning about the time period. What was going on in the world during the Depression. It's to give you a broader perspective of the world," said Little.
However challenging the execution of "The Diviners" can be, another problem the cast faces is the lack of focus.
"I feel like our biggest obstacle in the show (we haven't had many) is the lack of focus. That usually happens with most shows because theatre kids can be loud and dramatic, so we get off topic very easily. I feel like as a whole, we try to keep each other on track," said senior Rome Little Jr., who plays Basil Bennett, the old-fashioned town veterinarian.
This lack of focus is a regular occurrence during the making of theatre shows. It is something the troupe led by Little is trying to un-do.
"It's an honest thing. The inability to focus for a long period of time is a skill that needs to be cultivated and something you have to get used to so you can get things done in a timely-manner, instead of just having things happen," said Little.
Although the pattern of insufficient focus has put it's mark on this show, the cast and crew of "The Diviners" are still charging through with conviction.
"My experience so far has been pretty enjoyable. We have taken up new changes with this production and the cast is very fun-loving. They can get distracted easily, but they work really hard. The tech crew, especially the stage manager and the rest of the tech leads, are doing a very good job," said Little Jr.
The theatre program has undergone a few changes, the most obvious is being the change in the students in leadership positions. With the 2018-19 seniors graduated, the spots they filled, as tech leads or even positions they held outside of productions for theatre, were vacant. Current students had to fill those vacant spots and learn their roles quickly.
"Usually people get like a year of training, but because there was a need for someone to fill the spot sooner rather than later, I only got like a week of training," said sophomore Abby James, the new Head of Front of House and Marketing. James took over as Head of FOH as the previous lead moved onto a new position.
The stress of taking on a new leadership role during a show can get overwhelming, but the theatre department has a way of tackling that stress in terms of community.
"I talk to a lot of new people and people look up to me now which is kind of crazy to think about. It's a lot of responsibility, but I know that I have support from other people in theatre with things I might struggle with or do well," said James.
It's this sense of community that keeps people coming back to theatre year after year.
"I keep coming back every year, not just because of the passion, but for the people. It's the people who make up the department: the tech crew, the cast, all of us working together," said Little Jr.
With only a week left to finalize the sets, props, and acting for the play, both tech and actors have pulled through to create the show they have in their individual visions.
"Come see our show. It has a lot of depth and a lot of themes and if you just really take the time to learn and delve into these characters, you will probably find yourself in one of these characters," said Little Jr.
About the Writer
Sara Hong, Assistant Editor
Hi! My name is Sara and this is my third year in Newspaper. I work as an Assistant Editor. I'm really into plays, musicals, and all that jazz. I was...