Students Use Study Hall for Online Classes
Beginning this school year, students enrolled in online courses were offered a study hall as a class to provide them time to work on their classwork.
"Study hall is really good for me because it gives me extra time to catch up on any work I need to do," said sophomore Alex Kendall, who opted to take Mandarin online.
Online courses allow students to take courses they may not be able to take otherwise due to scheduling conflicts or the course not being offered as a classroom class. Students who have study hall as one of their courses are grouped together with other students of all grades who are taking a variety of online classes.
"We have seven or eight kids and there's students from each grade," said senior Sydney King, who takes American Sign Language online. "Without [study hall] I wouldn't really have the time or motivation to work on my online course, and I honestly think I wouldn't have even done it.".
One benefit of study hall is the amount of pressure that it takes off of students who are overwhelmed since the workload for an online course can get pretty heavy. Study hall provides a more structured time they can work.
"Not everyone has time after school to complete it, so it's amazing to have an opportunity to complete that work and not having to worry about it later," said Kendall.
"It's great because I have extra time to do it instead of the pressure of forcing myself to do it on my own time at school, and it's kind of hard to keep track of when you don't have a set time to do it every week," said King.
"Study hall is supposed to be to help students figure out how to take an online course because many of them have not," said theater director Chad Little who has a study hall seventh block.
One of the worries that students and teachers have is the possibility of distractions of being in such a laid back setting. However, the study hall teacher and the students taking the class can use this unstructured time to their advantage.
"Honestly there shouldn't be a downside to a study hall if time is being used wisely. Even if for some reason you've dropped your online class because after six weeks you realized it's not something that you see yourself following through with, then you can use that time to work on other classes so that you have no homework," said Little.
Another possible downside is that if a student chooses to take study hall as a class, then that student will not receive any credits towards graduation for that block. They will only receive the credits from the online course they are taking.
"One downside is that it's not beneficial to you credit wise. It takes the place of an elective which can be bad if you're trying to look for maximizing credits," said Kendall.
Students are not required to take study hall and may maximize their credits by taking online classes and electives worth credit during the school day. Online courses can be used to get specific credits out of the way so that they can be replaced with an elective or other class of the students choice in the event that they decide not to have study hall.
"Online classes are great for you to get the necessary credits. I took personal finance and health over the summer so I don't have to take them this school year or next year and I can replace one of them with a class of my choice," said Kendall.
Despite the benefit of having time to do work, some students worry that study hall is not worth dealing with the struggle of not getting face-to-face help from their teachers with their online courses.
"I don't think the study hall would be useful to me because I like being able to ask my teachers questions face to face. I just don't really think that I would learn the same. It's not like ac lab where I can go see my teachers and ask for help, I'd need to stay in one place,"said sophomore Carson Lorenz, who currently does not take an online class.
"I wouldn't recommend [online classes] for all students. It takes quite a bit of self regulation. If you have a lot of self control you should do it." said Little.
"I would definitely recommend online courses, but I wouldn't necessarily recommend study hall. It's extremely beneficial to students who are busy and need the extra time to complete the class work. If you're able to complete the necessary work at home then there's not much reason to have a study hall," said Kendall.
About the Writer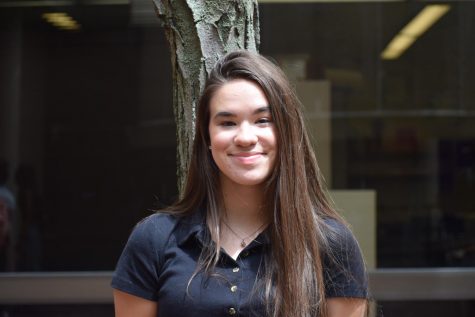 Vivian Richey, Writing Wizard
My name is Vivian Richey and this is my second year in newspaper. I'm interested in writing, makeup, and theater. I'm so excited to help this year.