North High Hosts Regional Art Show
On Tuesday, March 3, the Annual North Regional Art Show was hosted in the Parkway North commons from 6-8 p.m. The show consists of different artwork from the North  area students.
"The North Regional Art Show is an opportunity for the North area schools including North, Northeast Middle, sometimes Fern Ridge, and all the elementary schools, like Ross and McKelvey, to highlight student work. It's a small show. It's just a one night deal, but it's really a neat opportunity to kind of see that work. It also allows us to only focus and hone in on just our own artwork in the North area," said art teacher Clint Johnson.
The art show has been a tradition in not just the North area, but in all of Parkway, as it has been going on for 30 plus years. It has always been a group effort to make the show happen, not only from staff members but students as well.
"Central, South and West do the same thing. I have no idea where it evolved from, but I, being the department chair here, am kind of in charge.' said Johnson.. "Being in charge just means reminding everyone what they need to do and making sure the space is organized. We also have facilities to help us out and then we have enough students to help set up and then take it down."
Students were looking forward to seeing their artwork on display and thought the idea of the art show was a nice way to show off students' artistic talents and the feeling..
"I feel really proud because I'm being honored for something I'm good at," said junior Lianna Muschinske, whose work was on display.
Another reason why high school students seem to enjoy the art show is to show their younger counterparts what the environment is like in high school and what art-related courses are offered. It's also an opportunity for art students to reflect on where they came from
"It's also a nice way for young students to see what happens [in high school]," said Johnson."It's always great for the high school students who show up to go back and see their elementary teachers they remembered and vice versa." 
Some students feel that they don't create art just because they want to pursue it in the future, but they make art because it helps them emotionally.
"Art relaxes me, so it helps me with stress. I just like to do it for fun, I don't really want to go into professionally," said freshman Autumn Rosario, whose art was on display.
Art students encourage everyone to have some sort of artistic experience since it helps with expression, emotions and creativity. 
"[Art] shows everyone's different levels of creativity and it gives people options to express how they are feeling through their artwork," said Muschinske.
About the Writer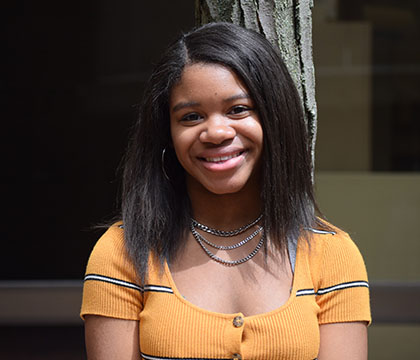 Laylah Little, Podcast Personality
Hi! My name is Laylah Little. I'm a junior and this is my second year of newspaper. I enjoy writing, singing, dancing, traveling, and listening to music!...