Students, Staff Participate in Black Lives Matter Protests
On June 20, 2020, Parkway North High students and community members participated in a student organized protest as they marched in support of the nationwide Black Lives Matter Movement. Over 300 protestors marched down Fee Fee Rd, Olive Boulevard and Ross Avenue. Graduates Isaiah Mays and Logan Boatright organized the march and spread it around various social media platforms.
"There were some recent Parkway North grads who I was following on Instagram and Facebook and I saw it in their feeds. I was super interested in going and supporting them. I think social media [is where it] started to spread. I was reaching out to other teachers and emailing other coworkers try[ing] to get a good, supportive group there," said English teacher David Beck.
Mays said that he and Boatright decided to organize the march to voice the student body's anger towards all of the racial unrest gripping the nation at the time.
"The hardest thing about getting the whole protest together was definitely advertising and making sure people knew about the protest so they could go," said Mays. "Afterward, I felt very emboldened and found a new sense of confidence in myself and my abilities. Not only did I make my voice widely heard through the North High community, but I proved to myself that I, with the help of others, was able to pull off such a meaningful task."
Though the protest was student led, Beck was one of the multitude of adults who showed up to march with these students and guide them through their fight for racial justice. "I wasn't really sure what to expect when I got there, but the students who were leading handled it very well. They were getting people to vote, they were getting people to donate. I wasn't really afraid of anything besides just making sure we were safe walking on the streets," said Beck.
Participants gathered beforehand to create posters and discuss the recent issues that sparked the protest.
Junior Lillian Williams marched to share her message about how to treat people right.
"I was worried that there would be people speaking against what's right. For example, there was an old woman telling us to go home, swearing at us, saying Trump 2020. It was truly disgusting. It's sad that people don't know what's right," said Williams. "I just hoped everything would go well and lots of people would turn out."
Similar marches took place in other area school districts including Francis Howell, Webster Groves, and Clayton. All marches remained peaceful and the student voices were heard.
"My only hope was to finish the march and just be heard. We accomplished that though because everyone who lives near the route saw or heard us and we were even on the news," said senior Dylen Walker. "I expected the news, but I didn't expect for a lot of people who lived around there to be handing out water and being so supportive to us."
Organizers of the march wanted to make sure people's voices didn't just stop at the march. They set up tables for people to register to vote, sold Black Lives Matter shirts for $10 and took donations. All proceeds were given to three organizations: Action STL, Urban League STL and Organization STL.
"The North community always comes together for homecoming or other little fun events, but I feel that this protest made our community so much stronger because it brought us together in a different way and for drastically different reasons," said senior Logan Liguore.
Many students prior to this protest had experience in fighting for social justice through educational posts on social media, signing petitions, donating or even something as simple as having a conversation with a friend about current events, but may have never attended a march.
"The protest had a lot of high schoolers in attendance. After the march began, it became clear that this was a lot of people's first protest," said Liguore.
Some students who were new to activism and found comfort in having staff members marching with them.
"I think for the students, it was reassuring to have adults there, and I wasn't the only one. There were so many staff members, so many parents. I can remember coming down Ross Avenue and there were some families handing out water bottles, waving, holding signs," said math teacher Dr. Wendy Freebersyser.
While the number of people who showed up to the protest was larger than expected, the estimated turnout would have been larger if it was not due to the global pandemic and the concern of social distancing, though Freebersyser makes it clear that one is significantly more important than the other.
"When I was walking in that protest, I was wearing a mask and limiting my intermingling. I felt completely safe," said Freebersyser.
Due to the global pandemic, going out and protesting is not ideal safety-wise. However, there are various other ways to speak up and help push for change without putting yourself at risk.
."Those of you who are brave enough, have conversations with your families, your parents, your uncles, your aunts, your neighbors. Be brave enough to persuade them to see your point of view, and to bring humanity back into our society. Then, stand up," said Dr. Freebersyser.
"The first thing you can do is educate yourself to understand minorities' struggles. Secondly, donate if you can [and] as often as you can. Third, vote. Change our system in the only way we can." said Walker.
About the Writer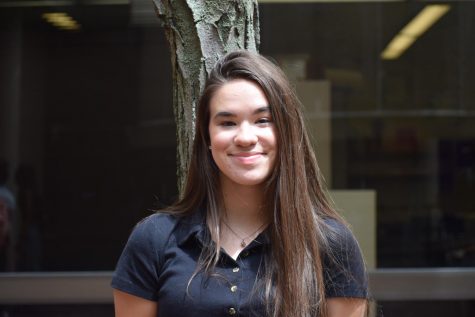 Vivian Richey, Writing Wizard
My name is Vivian Richey and this is my second year in newspaper. I'm interested in writing, makeup, and theater. I'm so excited to help this year.