Ginsberg's Legacy Inspires Teens, Young Adults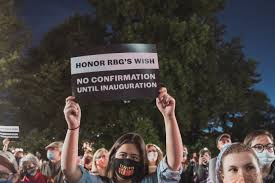 Supreme Court Justice Ruth Bader Ginsburg, who famously fought against gender discrimination and advocated for the liberal block of the court, passed away on Sept. 18. In 1993, Ginsburg was appointed by president Bill Clinton and became the second female judge on the supreme court and later a feminist icon for young women everywhere.
Ginsburg has been a well-known public figure to teenagers and young adults since she started getting popular on social media in 2015. Teenagers usually can't name a single Supreme Court Justice, but that was not the case with Ginsburg.
"I think what made [Ginsburg] so popular was her abrupt status as a pop culture icon. She was and still is an inspiration to the younger generation. She fought for what was right since the beginning and continued to do that throughout her life," said junior Sarah Stolze.
Pop culture had a lot to do with Ginsburg's sudden popularity amongst teens and young adults in addition to her astonishing political accomplishments and skills.
"Notorious RBG's image came to include t-shirts and memes. Her image was expanded in popular media by being included on SNL and in movies. Part of the reason she resonated with the youth was her concern for voting rights, equality, as well as the promotion of rights for women," said social studies and government teacher Bill Vogt.
Ginsburg has had numerous books written about her or inspired by her and has been featured in the documentary "RBG" that is about her life and accomplishments as well as biographical drama film "On the Basis of Sex". Both films came out in 2018 and added to the fame and popularity she had been receiving from the younger generation, which was more so than any other supreme court justice.
"RBG became so well-known because of her notability as one of the most prominent justices as well as how outspoken she was," said junior Norah Von Yeast.
Ginsburg graduated from Harvard Law school in 1959 and her graduating class included only eight other women but over 500 men. Ginsburg had to debate with her professors why she was worthy to be taking up the seat that a man could have been in throughout her college years. This is just one of the examples of why she is such a trailblazer for young women following in her footsteps.
"Justice Ginsburg was a voice for all of the women who did not have one and is someone who should always be admired. Her victories in the court systematically helped put an end to gender discrimination. She completely reshaped gender laws in the U.S., and seeing a woman accomplish so much in her life made so many women feel like they could make a difference too," said Stolze.
Ginsburg was known for notoriously fighting discrimination on the basis of sex and has done more for women and even men than most people know of. Ginsburg won the Weinberger v. Wiesenfeld case in 1975 which was against Steven Weisenfeld who had unequal access to the same childcare facilities that women did because he was a man. The end decision resulted in alterations in the Social Security Act and helped fathers have the same rights to childcare as mothers.
"Ginsberg's greatest achievement could be summarized as standing for the equality of all without compromise, even when doing so would alienate her on either the right or the left. She has defended equal treatment before the law for all groups," said Vogt.
Ginsburg left behind an important legacy and is a positive role model for young people Since her death, it is important that her legacy is continued.
"To continue her legacy, we need to continue with the notion that she is known for not allowing ourselves to be overlooked. As a young female lawyer, Justice Ginsburg was often overlooked by the partners in her firm as well as professors from law school but she always managed to make sure that she was seen whether they liked it or not," said Von Yeast.
Ideally, younger generations will do their best to continue Ginsberg's legacy by vouching for equality for all.
"She would want all of us to fight for the things that we care about, but to do it in the way that will lead others to join us. I believe that we are already doing that as a society. At North alone we have held peaceful protests against police brutality and climate change deniers," said Von Yeast.
About the Writer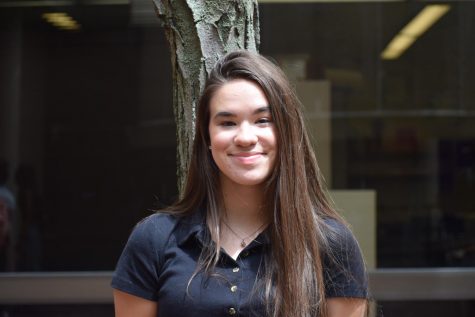 Vivian Richey, Writing Wizard
My name is Vivian Richey and this is my second year in newspaper. I'm interested in writing, makeup, and theater. I'm so excited to help this year.