North Community Prepares for Spring Break One Year After COVID Broke Out
Even one year later, the pandemic's effects are still significant on student's and teacher's spring break plans. Having to close the school until after spring break, due to the high number of COVID cases within the student body, has forced both students and staff to once again rethink their plans for the pending break. Spring break begins on Friday, March 19, leaving the students and staff at home for the next three weeks.
"For spring break this year, I am staying at home. My husband and I run a small produce farm," said physics teacher Kara Schulte. "We are doing planting season, so we will be doing a lot of planting and working in the greenhouse. We are also doing a flower garden this year, so a lot of outdoor work."
Although many may not have something to keep them busy at home such as a farm, others have come up with ideas to get by with a week of no school.
"I plan on probably having a small gathering with my friends, but safely. I'll try to go outdoors as much as possible. [If I can't meet with them, I] probably will still talk to them through the screen. I don't plan on hanging out much. But I'll also try to get away from screens and have some me-time," said sophomore Anushka Dave.
While some are staying home, others may plan to go out of town for the break.
"I plan to work for the first half of spring break and then go to Chicago for four days. [My friends and I] have an itinerary of where we are going; That way we can avoid hotspots," said senior Leah Whitley.
As Whitley has been scheduling a route to avoid hotspots of a high number of cases, others have taken further precautions to ensure their safety while retaining traditional spring break plans.
"My family plans on double masking. Typically, we don't take off our masks at all until we arrive at our destinations and wipe everything down. The masks and everything is a bit annoying I have to admit, but all this time it's kept my family safe so that's worth it," said junior Grace Koo, who is planning on traveling to Lake Tahoe in California. "Since my mom's a doctor, we're especially careful because if anyone in our family gets COVID, then she'll be unable to go to work for a good chunk of time."
Without school and a schedule to keep people motivated, it may be easy to fall into the trap of doing nothing.
"Although having no school for a week removes some of the unpleasant workloads, the idea of a 'spring break' doesn't shine bright on me as much as it has before because, in reality, nothing is really going to change. A day with school and a day without, either way, every day brings in a whole lot of sadness," said senior Jane Kim.
Even if one doesn't have plans, whether it is at home, in town, or on a trip, taking time to rejuvenate and take care of oneself is essential this break. Getting outside, going for a hike or a walk, catching up on schoolwork, picking up a hobby, or exploring new places while being safe can make this spring break worthwhile.
"I think it's important to take care of yourself even when it's not 100% necessary. I think people shouldn't just forget to take care of basic things like their hair or skin just because no one will see them. It is important to feel put together on the outside just as much as the inside," said Dave.
"Just because we are stuck at home, doesn't mean you have to stay at home. There are plenty of places like state parks to hike and explore. See your family from a social distance, but get outside," said Schulte.
About the Writer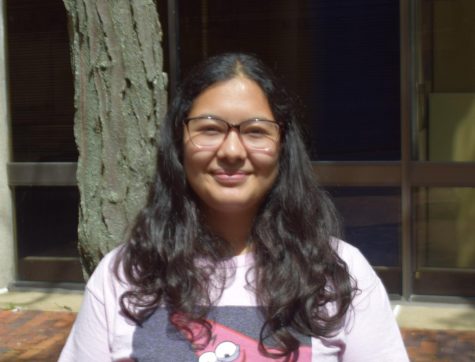 Diana Baeza, Personality Perfectionist




Hello, I'm Diana Baeza and this is my second year in Newspaper. I choose to be a Personality Perfectionist because I enjoy meeting new people and...