Class of 2021 Shine in Fine Arts
May 10, 2021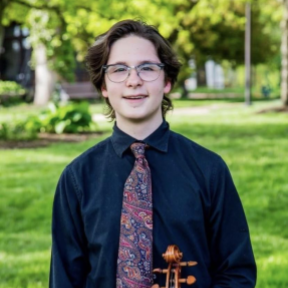 Jay Lipsutz
For all four years at North, Jay Lipsutz was an active member of the orchestra while also being involved in outside musical ventures and maintaining a high GPA. Sophomore year was particularly a highlight for him.
"We had a lot of great upperclassmen who helped guide us as a group so we could play to our full potential," said Lipsutz. "Plus a lot of other kids in my grade joined Symphonic Orchestra, which was really cool."
Lipsutz has also been a member of the Missouri All-State Orchestra since his sophomore year. Being part of this ensemble is one of the highest honors a high school musician can achieve.
"It was fantastic. I really got to know so many people who shared the same interest in music as I do within the span of five days," said Lipsutz.
Lipsutz is also a member of the St. Louis Symphony Youth Orchestra and has won honors at the 2020 virtual Young Artist Competition at UMSL and the Marie Stillwell Young Artists' Concerto Competition.
The past four years have been memorable for all seniors, but one moment, in particular, stood out for Lipsutz.
"Playing at the pre-graduation ceremony was special since it was like a sendoff to seniors. It sucks we didn't get to do it this year or last," said Lipsutz.
Lipsutz is one of the top viola players in the state of Missouri, and he plans on continuing his musical journey into college.
Leave a Comment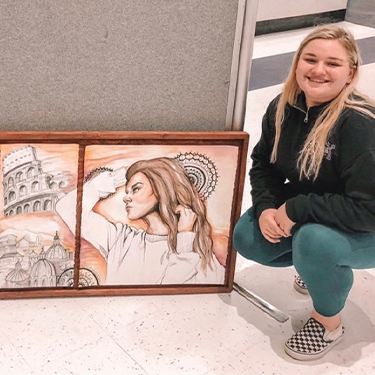 Macy Nimock
Ever since she was 12-years-old, senior Macy Nimock has been invested in visual arts. Once she got to high school level, she took a fine arts class every single semester.
"I've been making art all my life. I've always loved it," said Nimock.
One of her favorite pieces that she created is a portrait of her friend, Bianca, who was an foreign exchange student from Rome, Italy.
"This piece means a lot to me because we were so close," said Nimock. The portrait took her over a month to complete.
Nimock developed her creativity over the past four years while maintaining a high GPA and expressing herself in other ways like being a member of the Vikettes team.
Even though high school is now concluding for Nimock, she still plans to pursue art in her future.
"I am planning on majoring in fine arts with a minor in education. My plan is to be an art teacher," said Nimock. Nimock will be attending Truman State University in the fall.
With being incredibly involved with the fine arts culture at North, she has had a very successful high school career and is hoping to make a similar impact on others as her art teachers have had on her.
View 1 Comment