Macy Nimock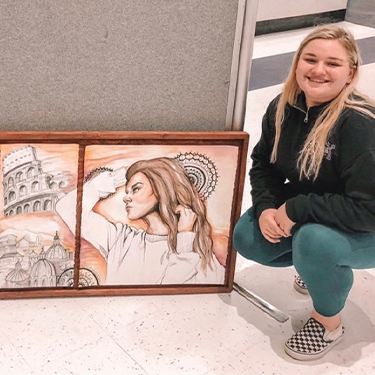 Ever since she was 12-years-old, senior Macy Nimock has been invested in visual arts. Once she got to high school level, she took a fine arts class every single semester.
"I've been making art all my life. I've always loved it," said Nimock.
One of her favorite pieces that she created is a portrait of her friend, Bianca, who was an foreign exchange student from Rome, Italy.
"This piece means a lot to me because we were so close," said Nimock. The portrait took her over a month to complete.
Nimock developed her creativity over the past four years while maintaining a high GPA and expressing herself in other ways like being a member of the Vikettes team.
Even though high school is now concluding for Nimock, she still plans to pursue art in her future.
"I am planning on majoring in fine arts with a minor in education. My plan is to be an art teacher," said Nimock. Nimock will be attending Truman State University in the fall.
With being incredibly involved with the fine arts culture at North, she has had a very successful high school career and is hoping to make a similar impact on others as her art teachers have had on her.