Students can get nutritious meals at lunch
According to a survey of 115 students at Parkway North, approximately 73% get their lunch from the cafeteria at school at some point during the year. However, some students question the nutritional value and wonder if it is worth eating the lunches served here or not eating at all.
While school lunches may have the stigma of being tasteless and unhealthy, the lunches in the Parkway District give students access to food, meet nutritional needs, and build good eating habits at a young age while tasting good.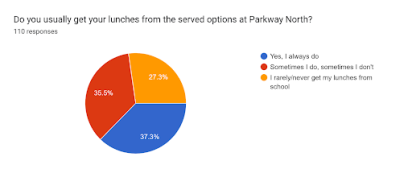 "Basically, what we're trying to instill from elementary to middle to high school teenage kids…is good habits," said Resident Dietician Kenneth Witte.
When a student walks into the lunch line, they have many different choices for their meal, ranging from Latin American food, to a salad bar, to deli sandwiches. There are many healthy options, but the most popular choice is pizza, eaten by 41% of the student population. The pepperoni pizza slice contains 430 calories, with 18 grams of fats and 3 grams in sugar. A slice of pepperoni from Dominos contains 320 calories with 15 grams of fat and 2 grams of sugar. Accounting for cutting differences and the fact that Parkway pizza is slightly thicker than Dominos, school served pizza has greater  nutritional value relative to Dominos. Additionally, the school slices have 23 grams of protein, whereas Dominos has only 12 grams.
Even though the lunches are nutritious if students choose the right items, some students are still concerned about allergies.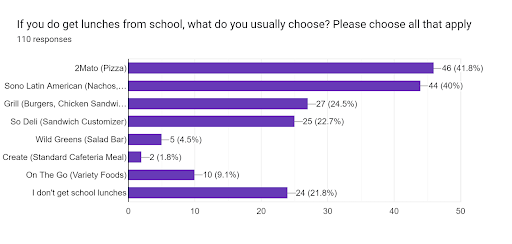 Senior Amirah Gumbs is concerned about cross-contamination and the spread of allergy-prone food ingredients like dairy, soy, and wheat. For example, the chicken sandwich contains both wheat and soy, which can be spread to the side items and even fruit through cross-contamination. This can be dangerous for those with greater allergic reactions.
"I think they can be more accepting. [Students with allergies] can have their own station, like an allergy station like they used to," said Gumbs.
For other students, having the option of any food is a benefit. Approximately 17-18% of students at Parkway North receive reduced-price or free lunches. It is the food department's goal to provide breakfast and lunch to students who can't afford it otherwise or do not have a warm meal waiting for them at home.
"If I can do my part to make sure that breakfast is offered and lunch is offered for them, I'll serve pizza at breakfast, if they'll eat, and they'll go home, and now don't go to bed hungry," said Resident Chef Robert Grotha. 
Eating at least a few good meals a day can be enough to get students through the day, with enough energy to enjoy extracurricular activities, and that is what Parkway ultimately seeks to provide.
"That's kind of why we're here," said Witte. "To make sure that we're curating menus and giving everyone the options and ability to choose healthy foods."
Even though students question whether or not they should eat the food offered to them in the cafeteria, it's worth eating school lunches served at Parkway because it can provide a tasty, healthy meal if chosen correctly. Even if not just for the food, supporting the cause of feeding those who need it, with the added benefit of nutritional support, is worth the money in its own right.