English Teacher David Beck Publishes First Book: The Sleepy Reader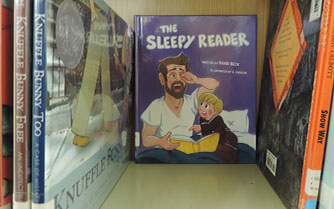 Mopping ducks, throwing bikes, and scoring gnome runs are all unique activities in the newly published book, "The Sleepy Reader," by English teacher David Beck. "The Sleepy Reader," first available on Sept. 4, 2018, is based on how Beck sometimes feels as a father and teacher.
"I am the Sleepy Reader. My book is basically written about my life," said Beck.
The concept of the book came from two incidents in in life. The first one accorded in 2016 when Beck went performed a graduation rap to the tune of "My Shot" from "Hamilton."
"I will say that 'Hamilton' got me thinking about what kind of legacy would I leave as a teacher and  as a parent. This was a legacy in the sense that this is a legacy to my children," said Beck.
The second happened one late, tiring but humorous night while reading his children their bedtime stories.
"Really, the idea came from leaving my son's room one night after I had read to him and had been dozing off. I met my wife in the hallway and we were both like 'I can't stay awake, this is so impossible and I'm botching words.' It was kind of humorous in a sense because we were trying really hard to read to our kids, but it was just hard. We were just tired," said Beck.
Even with an inspirational event and a unique storyline, becoming published is no easy task.
"Publishing takes a lot of work and a lot of revision with your editor and your publisher. A lot of times when you submit and are accepted, the publisher will ask for nips and tucks," said English teacher Allison Cundiff, who recently published her third poetry book, 'Just to See How it Feels'. "I felt that it was a lot of work and, ultimately, a rewarding experience."
Not only is the publishing process lengthy, but the whole creative process itself takes a considerable amount of determination and willpower.
"After we had these pdfs, and we had what we thought was a working manuscript, I was relentlessly contacting literary agencies and just getting zero response…I just had to get my foot in the door somehow," said Beck.
Luckily for Beck, one of the parents at his children's school told him about a publishing company called Mascot that allows inspiring authors to pitch their ideas and then work with them to create a product.
A key component of Beck's whole process was his illustrator, Jon G. Gamache. Gamache was former student of his who graduated in 2012.
"I had still kept in touch with a former student who I knew had gone through Truman States Art Program, so I reached out to him and told him the idea," said Beck, "I started giving him manuscripts. He started giving me sketches. We would collaborate a lot."
Beck and Gamache would frequently meet at cafes and Beck's home to bounce ideas off each other.
"I have this very vivid memory of him [Gamache] coming to my house and we just had papers everywhere on the floor with post-it notes everywhere. [I remember] he and I just pondering the organization of the story and my kids running around me,'" said Beck.
Special moments like these with his children were what the book was based off of.
"I just wanted to honor my children, so they know how much, even though its hard, I appreciate them," said Beck.
Writing about one's life and experiences is a strong point Beck wants to make out with his writings.
"I want kids to know that you should be reading and writing your life. This is based on my life and future writers have to write what they know and this is what I know," said Beck.
Beck is unsure about the future of his writing career.
"I don't see myself ever leaving teaching…I already have some ideas for a second story with more of a female focus and doing something honoring my daughter's interests. That's probably still a few years off because I want to focus on this one right now," said Beck.
Currently, "The Sleepy Reader" is selling well.
"Seeing it have positive sales on Amazon is super great. I don't know if its really hit me yet," said Beck.
The next step for Beck regarding "The Sleepy Reader" is his upcoming book signing event at The Novel Neighbor on Sept. 29 from 1:00-2:00 pm.