Meet Sophomore Cherry Qiu
Hang on for a minute...we're trying to find some more stories you might like.
What's your favorite app on your phone?
"I have a decent amount of apps on my phone, but I really like Tetris. My highest score was like 199,000."
What's your favorite movie?
"The Handmaiden. It's a Korean thriller."
What do you like to do in your free time?
"Sleep."
What's your favorite show?
"The Great British Bake Off, but only seasons 1-4. I don't like the newest one."
What is your number one pet peeve?
"My newest pet peeve is when I see people wearing decorative, hardcore Christmas clothing. But I like Christmas sweaters."
What color would you describe yourself as?
"Dark blue."
Who is your favorite music artist?
"Hozier. His music's really good. It brings out this fantasy I have of being a shepherd's boy in the 1600s in countryside France, and I die of like, a broken toe. I also really like Rina Sawayama because I relate to a lot of the stuff she's been through because she's a British-Japanese singer."
How many quarters do you think it would take to fill North?
"A really big number that I can't quantify right now."
What is one character you identify with?
"No one. I just think characters are cool. It's more like I want to be like them, but not that I am them."
Tell me a joke.
"My life."
About the Writer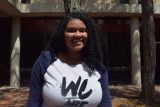 Sereniti Wrancher, Personality Perfectionist
I'm Sereniti and I'm a sophomore. This is my second year on staff and I hope to continue expanding my skills in journalism.