Academic Labs Participate in Door Decorating Competition, Learn Teamwork
Hang on for a minute...we're trying to find some more stories you might like.
For students at Parkway North, academic lab has been viewed as a time to work on assignments, finish projects, and catch up on classwork. While this is true, lab is also a time for community building since the students in lab will be together for all four years of highschool.
Sophomore principal Dr. Mike Rizzo has introduced a new activity this year to promote synergy and community in academic labs: the academic lab door decorating competitions.  
"I belong to a group called LACE, Leadership Academy Character Education, and I was trying to figure out ways that we could build community in our academic labs, since these are [the students'] homes for four years," said Dr. Rizzo.
The concept of the door decorating competitions is new to North this year. Not all labs choose to participate, but those who do, use their time to research ideas, cut, tape, draw, and design their classroom's door with the incentive of a donut party for the winning lab.
The first of these competitions occurred during the month of October and the theme was centered around Halloween. Ac labs took very different interpretations of the theme. Some, such as English teacher Wendy Surinsky's lab, thought outside of the box. Her door was covered with posters and applications for college.
"Seniors get a ton of college mail every day, so I figured instead of just throwing it away we could use it to decorate our doors. The theme is halloween and applying college is scary, so it goes well together," said senior Madeline Hartranft.
But in the end, it was math teacher Mark Alonzo's sophomore lab that was awarded donuts.
"Before the contest was announced. one of my lab students had brought in a paper skeleton to hang in the room.  My lab named him Robert 'Indiana' Bones. When the contest was announced, they knew that Robert would be the centerpiece of the door," said Alonzo.
December is now upon us, sparking a new, winter-themed competition that will be judged on Dec. 14, the last full day of the semester. Dr. Teixeira's freshmen lab is determined to win.
"We decided to make a countdown to the last day before winter break out of puns," said freshman Nora Vonyeast, "On the actual door, there is a picture of Beyonce in a sleigh with the words 'Sleigh My Name' on it. [Then] on the wall next to the door, we have the actual countdown."
The door decorating competition has not only been about winning the donut party, however. It is also about bringing students together to produced great memories.
"This project was a lot of fun," said freshman Audrey Davies, "There was a lot of laughing with not only the students in academic lab, but also Dr. Teixeira."
The door decorating competitions will be present in next semester's academic labs, but eventually Rizzo hopes to extend these team building exercises outside of ac lab classrooms.
"We want to try and work on grade level team building in the future. Right now, I feel like the staff and administration sets up a lot of the [team building] activities," said Rizzo, "I think we need to move to student voice, so that students take the lead with these exercises."
About the Writer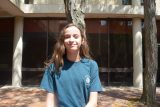 Tabitha Bevan, Writing Wizard
Hello, my name is Tabitha Bevan, and I am a freshman on the Norsestar team. This is my first year on the newspaper staff, and I am thrilled to be contributing...