Like Custard? Like Mizzou? Andy's is the Place for You
Hang on for a minute...we're trying to find some more stories you might like.
On Jan. 9, Andy's Frozen Custard on the corner of McKelvey Road and Dorsett Road opened its doors for the first time. Thanks to its new, convenient location, students at Parkway North High School are now only six minutes away from indulging in "the best frozen treat in the entire world!" after a long, hard day.
Andy's has been serving frozen custard since March 19, 1986. It is located all around the country today, but they started in Missouri, so it makes sense that they are Mizzou-Proud, bearing the tiger logo on their menu and cups at the new location here in their home state.
Some may think that frozen custard is a treat that should be reserved for the summertime, but Andy's offers a variety of flavors including seasonal treats like the Cookie Casanova Sundae (available now, for a limited time only) and the Mint Cookie Concrete (coming in Mid-February).
The seasonal Cookie Casanova Sundae is a soft chocolate chip cookie served with frozen vanilla custard covered with warm caramel sauce, almonds (optional), and topped with cherries. It is a very sweet dessert with a lot of texture, and it is good, but it doesn't compare to the Triple Chocolate Concrete, a well-renowned fan-favorite. This blends melted pieces of chocolate and chocolate chip cookie dough in Andy's chocolate custard, and it may be the most delicious thing I have consumed.
Andy's has convenient hours too. During the summer, Andy's is open from 11 a.m. – midnight on Fridays and Saturdays and 11 a.m. – 11:30 p.m. Sunday – Thursday. Andy's does not wait for the pools to open up though, they stay open year-round. Currently, they are open from 11 a.m. – 11:30 p.m. on Fridays and Saturdays and 11 a.m. – 11 p.m. Sunday – Thursday.
Despite any weather conditions, ordering custard is easy and fast at Andy's. At Andy's, everything is handled at a window with friendly service. You can walk up to the window and enjoy the nice weather outside, or you can drive-through and can stay warm in your car while being able to enjoy some custard during this snowy season.
The prices are reasonable too, ranging from $1.94 to $7.34 (depending on the size and type of custard), and the portion sizes are generous even for a small.
Overall, Andy's is a great place to go with family, friends, and, considering that Valentine's Day is coming up, it's a great place to share "the best frozen treat in the entire world!" with that special someone.
About the Writer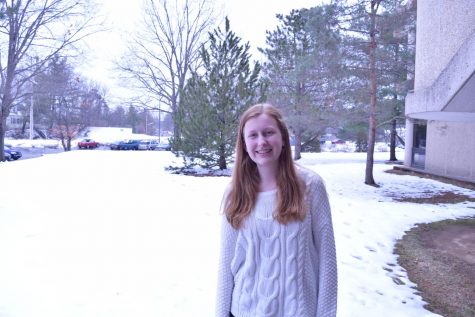 Sophia Strathman, Radical Reviewer
Hi, my name is Sophia Strathman, and I'm currently working as a Radical Reviewer on the Norsestar staff. I am so excited to be writing about things going...