Loop Trolley Becomes Train Wreck for St. Louis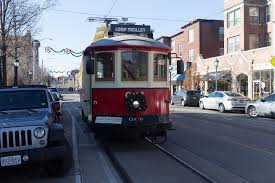 When the Loop Trolley was funded in 2010 with $20 million by the Federal Transit Administration (FTA), the project was supposed to generate $400,000 annually. However, eight years and $51 million later, only $32,000 has been made, and it is in danger of shutting down.
The tracks run from the Missouri History Museum in Forest Park, north on Debaliviere Avenue, then turns west on Delmar Boulevard and ends at the University City Library. It was mainly paid for by a one cent sales tax on businesses along the route, fundraising and $33.9 million from the federal government.
At the moment, the trolley is not running on the seven days a week schedule that was planned. Because it only has three operational cars, it is running on a reduced schedule from noon to 6 p.m. on Thursday, Friday, Saturday, and Sunday.
On Oct. 12, County Executive Sam Page wrote a letter to the county council, asking for $200,000 from the council or the project would face insolvency as soon as Nov.15. The letter also asked for an additional $500,000 to keep it running in 2020.
"Allowing such an expensive project to fail so quickly would be a disappointment and could have wide-ranging impacts on future transportation projects," Page wrote.
A loan of $90,000 from the sales tax district has kept the project afloat until Jan. 1, but there is no promise of it continuing through 2020. There has been no explanation as to why $90,000 is now considered enough rather than the $200,000 originally requested.
English teacher David Beck, a resident of University City said, "I think it's a huge waste of space and a nuisance. I don't think that was a good use of money and resources."
Throughout it's short lifetime, the trolley has barely clung to life, and if it goes down it could be problematic for Saint Louis' transportation projects going forward. Because a large portion of the funds came from the federal government, it could harm future projects. The FTA might be less willing to give money to Saint Louis.
As of right now, people can only wait to see if it can stay afloat for another year. Supporters of the trolley believe that once another car is put into operation and can run on a full schedule, profits will increase, but many are still skeptical. However, time will tell.