Parkway North Students, Staff Navigate New Distance Learning System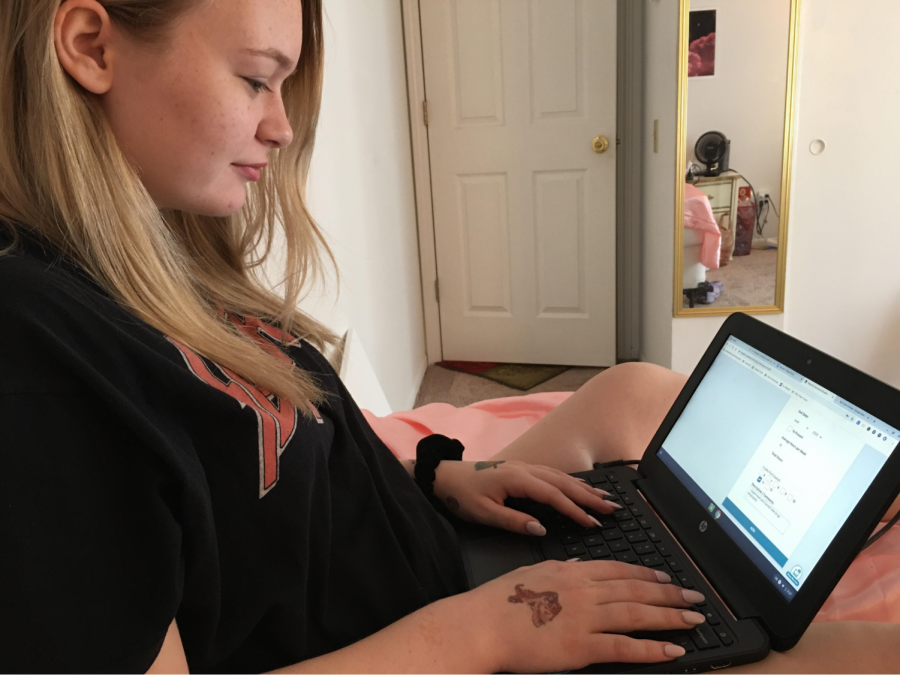 Friday, Aug. 28 marks the end of the first week of distance learning for students and teachers in the Parkway School District. Unlike the spring semester emergency learning online, which was quickly put together to help students finish the semester successfully, the fall semester distance learning follows a different structure and is designed to deliver instruction in a more structured way.
"The online (distant and virtual) instruction will be significantly improved. Remember, teachers had three days to move to eLearning in March. We have had the opportunity to bring teachers together to plan and to provide technical assistance [this semester]," said Parkway superintendent Dr. Keith Marty.
While some other school districts have chosen to hold class in person part of the time or use more asynchronous learning, Parkway has decided to establish a "class-style" online system where students meet with teachers in a class Zoom call at scheduled times.
"I actually really like the class system. It was really hard to stay motivated last year because I struggled with time management. I work better with more teacher guidance than we had last year. It's also nice to have a little sense of normality that we still have class times even though they aren't in person," said senior Megan Hupperts.
Besides more face-to-face time with teachers and a more defined schedule, distance learning is different from eLearning because the work students complete counts for a full grade instead of just 5 percent of their grade.
"Defined schedules have been determined at each level with clear expectations [and] learning activities developed. There will be assessments, grading, and rich experiences," said Marty.
While the structure this system provides may prove useful to some students, it also feels restraining to some.
"I very much dislike the thought of doing a class form of online learning. What we had last year was very convenient for the students because if you weren't feeling too well in the morning, you could've just pushed your schoolwork back to that afternoon when you're feeling more energized,"said junior David Brooks.
"Now, I have to wake up early in the morning just to move three steps out of my bed and sit at my desk looking at a laptop."
Utilizing the class-style system is not the only change seen from the system used to conclude the 2019-20 school year.
There are also safeguards put in place for those who are worried about and at risk of falling behind.
"As we do not want students to fall through the cracks or fall behind any more than they did last spring, Special education teachers, interventionists [reading and math], counselors and social workers have been preparing to move in and assist students they already suspect will have needs. I believe we will respond to the needs of students like we always do, with the use of resources and expertise we have in our schools and among our staff," said Dr. Marty.
Another important aspect of the school experience is extracurricular activities. Many are cancelled or postponed for the year; however, some have managed to convert their club activities into an online format.
"Some of my extracurriculars are still happening; however, they are happening in a different way. In theatre, we can no longer have a live audience to perform in front of," said sophomore Evelyn Vordtriede, "This can be very challenging, but there are plans to have some virtual opportunities for us to participate in Zoom. Part of me likes this change, but I do really miss being able to perform in front of a live audience."
At first glance, all the losses with distance learning seems great. However, the decision to move from the options of a hybrid and online system to a full-online system for the first quarter was decided after a panel looked at the county and local data at the time.
"Ensuring student safety and health is always our number one priority at Parkway. Our school leaders and teachers have worked so hard in preparation for the school year. There is genuine excitement and enthusiasm, as there is every year for the start of the school year. We all need to work together in the year ahead for the sake of our young people," said Dr. Marty.
About the Writer
Sara Hong, Editor-In-Chief
Hi! My name is Sara and this is my fourth year in Newspaper. I am one of the Editor-In-Chief's this year. I'm really into plays, musicals, and all that...