TikTok Impacts Society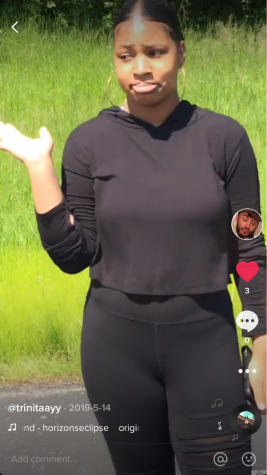 As of Sept.10, 2020, TikTok still shows as the app with the most downloads in 2020 with 99.8 million downloads in the first six months. TikTok features a series of 15 to 60 second videos users have made for trendy, political and/or educational purposes and has influenced the current teen generation. 
TikTok users have made many videos to educate people on a variety of topics including history that isn't taught in school, the inappropriate use of "dark humor" and slurs, culture appropriation and more controversial topics prominent in the United States.  
"It's educated a lot of us and it actually opened up a lot of conversations that people did not want to have," said senior Logan Blackmon, who has been on the app for a year and a half now and spends three hours a day scrolling through the "For You" page. 
On May 19, 2020, the TikTok community held a "Blackout" day. This day was said to be a movement against the censorship and banning of black creators and to uplift their content. The day consisted of only black creators posting about the injustices the black community faces. Views varied and while some said the movement was racist, others said it was necessary to make change within the app. 
"Tiktok has put a spotlight on [racial issues] …Tiktok has given people with the knowledge a voice and a way to spread awareness," said sophomore Love Ford, who has been on the app for two years. She typically spends about four hours of her day on it. 
The Tiktok community developed a regularity of "canceling" people with platforms on and off TikTok when they say or do something controversial by unfollowing and spreading hate towards them. 
Besides bringing awareness to controversial social issues, TikTok is also a platform that promotes mental and physical health and well-being 
"My students love doing some of the TikTok dances. I love that it gets people up and moving and active," said Jody Chambers, a health teacher at North who also teaches Movement to Music. "There's no doubt that TikTok affects mental health. I think that it could positively [affect mental health] if they're getting as many likes or followers as they feel they want but again on the other hand if they're not getting as many likes or followers, I think it could be very harmful to their self worth," said Chambers.  
Many creators also share their political views in various ways including forming groups in which people within the same political party share a TikTok account and debate against other groups within a different political party.
 "The political side of TikTok is very beneficial and I'm actually incredibly glad it's on there because there are a lot of people on TikTok and it's short, little up to 60 second clips about things that are going on in real life. If people don't want to sit and watch the news they can get on TikTok," said Blackmon.
According to "The New York Times", TikTok users and fans of K-pop music groups claimed to have registered potentially hundreds of thousands of tickets for President Trump's campaign rally as a prank and not show up.This prank was the result of Trump holding a rally a day after Juneteenth and in Tulsa, Oklahoma which was the site of a race massacre in 1921. 
Many people believe this is the reason for Trump's plans of banning TikTok in the United States. For a long time, there were many rumors and speculations about the executive order from Trump claiming TikTok to be a threat to national security, foreign policy and the economy of the United States. This led people to think that TikTok would be banned on Sept. 20, 2020. 
However, according to CNN, as of  Sept. 21, 2020, Trump has approved a deal between TikTok's parent company, ByteDance, and Oracle, temporarily averting a ban on TikTok in US app stores and allowing users access to the app. 
TikTok has proven itself to be very influential nowadays affecting users' political views, lifestyle, hair, clothes, music, slang etc.
 "One-hundred percent, TikTok is very influential. It changed my entire wardrobe [and] everything. Tiktok has inspired me and I've seen a lot of tough stuff on Tiktok," said Ford.