Cross Country Takes Off With New Goals and Guidelines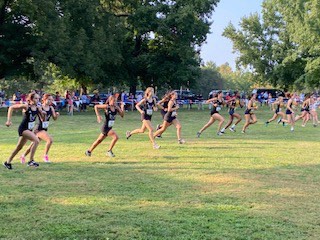 The North cross country season kicked off on Sept. 17 at McNair Park with both the boys and the girls teams competing, where two runners, juniors Tabitha Bevans and Kenneth Sigler, placed in the top 30. 
"My main goal is to break 19 minutes [in the 5k] this year. I came close last year but ultimately missed the mark. I trained a lot over the summer, so I think my goal is within reach," said Bevan, who ran a 20:56 at the meet placing 3rd.
Due to COVID-19's effect on cross country's schedule, wave starts have been implemented. Wave starts are heats in which only a few schools race at a time to limit crowds and allow for social distancing at meets. The officials add all the times together and later combine them for the final scores.
"If running wasn't already a mental sport, the wave starts add another factor to this. In some cases, you could be going out with people who may be way slower than you and it seems fine because you won your wave, but when you're so far ahead of everybody it's hard to pace yourself and might not even place. In other cases, you might be challenged by other people in your heat which can be a good thing; although, you might not win your heat and look as good, you'd have a better chance to place and PR which is the goal at the end of the day," said Bevan.
Another change that occurred is the girls team got  a new coach, Justa Dahl, from Parkway West after the departure of coach Kreher and Beck. This brings about new practices and goals for the team. 
"Our team has a unique dedication to accomplish our goals. We got together throughout summer to train and put in the work at 7:30 a.m. None of us are being forced to do this sport; we all want to be here and succeed," said Bevan.
In addition to a new coach for the girls team, the boys team has a lot of new runners and returning runners with new goals. 
"As far as individual goals go, I am incredibly intent on running a 5k in under 19 minutes. I am a senior and a cross country runner for four years, but I am admittedly not the most athletic person or a naturally good runner. While many seniors on the team can break 19 minutes fairly easily, it has always been an aspiration for me to get such a time. Last year, I was heartbroken when I missed my goal of breaking 20 minutes by just seven seconds, and I've been training all spring and summer to compensate," said senior Chris Lau.
Also, this season, the boys and girls cross country teams' practices have been combined for the first time ever at North and also for the first time since middle school for the athletes.
"This year is different from past years because the girls and boys teams train together, and I think this will make us a more successful team. We are a closer community now, and as I said before, teamwork is essential for success," said Bevan.
Despite the changes and challenges the 2020 season brings, the coaching staff is optimistic for the season.
"The success of this year is dependent upon two fundamentals: teamwork and hard work. Our coaching staff was very encouraged by the number of miles our student athletes collectively put in during the summer, more than any time in recent memory. This base of mileage has helped us to do more advanced workouts earlier in the season because we have started the season at a high level of fitness," said coach Moyenda Anwisye.
The boys' next meet is this upcoming Thursday and the girls' next meet is on Friday, both at Parkway West.
"Our team's success can be found in our belief that any failures or mistakes don't define us as people. We will find success as we take positive risks in races and workouts that reveal our true character, the edges of our comfort zone and grow our strength to take on bigger challenges. We must be willing to embrace being uncomfortable," said Anwishe.
About the Writer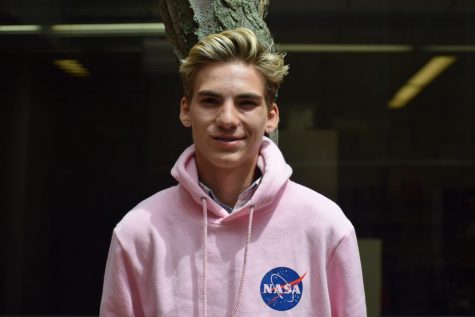 Kenny Sigler, Side Dish Czar



Hola, my name is Kenny (Kenzo) Sigler and I'm a junior in newspaper. I'm excited to continue working with the staff for this upcoming year. I...