Seniors Reflect on Most Memorable Sports Moments
Girls basketball
Girl's basketball dominated the past four years. In 2019, the team had a nine game winning streak and won 12 of their 13 games.
"Coach Brown worked us really hard and we won the winter tournament undefeated and did really well through the whole season," said senior Nina Mueller.
They continued to crush their opponents, ending this year with a record of 17-7 before being shut down due to COVID concerns.
In addition to the team excelling over the last four years, the coaches and teammates have a heartening and inspiring relationship as well.
"Coach Katz is a great coach, and I wish I was [still] able to play with him as my coach. They really make the game fun and they work really hard," said Mueller.
The jamboree
To kick off the start of a exciting football season, Parkway North hosted a jamboree on August 23, 2019 with several other schools participating and in attendance (Hazelwood Central, Riverview, Lafayette, Hazelwood West, McCluer, Francis Howell North and Bishop Dubourg.) Suddenly, fights broke out and police believe that a gunshot was fired.
"I was in the student section. We were all being loud and rowdy when all the sudden we saw essentially a stampede of people running over the field and scattering in seemingly every direction," said senior Bryce Maier.
Students remember the event to this day and are left with the lingering confusion.
"We were part of the last group to be evacuated from the stadium and we had watched in utter confusion as people had crammed through the exit. We are lucky no one got seriously injured because the scene was quite chaotic. As we were leaving, I saw police officers with rifles and the serious nature of the situation really sank in," said Maier.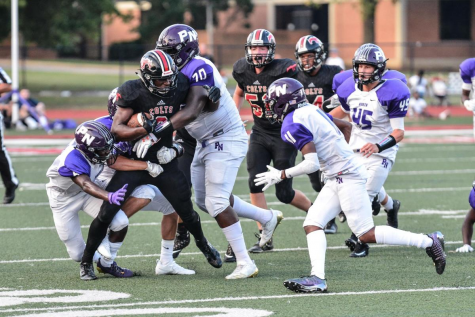 Any game against Central
Whenever a matchup against Central is coming up on the schedule, there's an aroma of excitement at North. In the past four years, many of the games in which North took on their arch rivals were exhilarating. Whether it's because of the thrill of the game or the authentic rivalry, games against Central are always a blast.
"Whenever we play Central in football, it is always awesome," said senior Sawyer Simon.
A popular favorite memory during a game against Central is when Central threw flour at the North visitors.
"[The football game during] my sophomore year in September [had the theme of] white out. So of course, the majority of us were covered in flour. The entire game we would score and then Central would score. It made me so nervous but also exciting," said senior Abigail Bockerstett. "When the clock was running down in the fourth and we got the last touchdown, the crowd went crazy, and all the students rushed the field."
Playing Central and even further, winning against Central is exciting and considered a huge accomplishment whether it was in football or in basketball.
"It was at a basketball game, and it was against Central. North was losing so bad we thought the game was over, but then the fourth quarter hit, and we caught up and won the game. All of the North kids ran down from bleachers onto the floor and we were jumping, screaming and everything. It was so fun." said Leah Whitley senior.
Girls track
Despite not having many seniors on the girls track team, they were still a fan favorite to root for. On May 26, 2019, they won the Class 4, 4×400-meter relay first place trophy, and according to MO MileSplit, became the first North track team to win a team trophy.
"We had done a lot of training with the girls team that year, and it was clear how hard they had all worked. Watching our girls place race after race was quite literally watching all their effort throughout the season being put on the track," said Michael D'Alfonso.
Alicia Burnett was named the St. Louis Post Dispatch's All-Metro girls track and field athlete of the year in 2019. Burnett set an all-class record in the 100-meter at the state meet when she finished in 11.58 seconds and also won the 200-meter in 23.83 seconds.
Earlier that year, on May 12, 2019, the team took home the second place district trophy for the second consecutive year. Later that year, Reina McMillan and Safiya Ratliff earned spots at the Festival of Miles meet at St. Louis University High School which is a charity track meet event featuring two and a half hours of action. The races feature some of the nation's top talents and pro races featuring Olympic level athletes.
"The girls were obviously overjoyed when they won and everyone on track was proud and amazed … The girls had a really good chance of winning their next year too, but sadly due to COVID, they lost their season and lost that chance," said D'Alfonso.