Aliyah Williams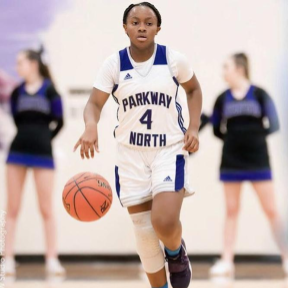 Aliyah Williams played varsity girls basketball for four years at North; scored 1,000 career points; made first team all-district, all-conference and all-state this past year and recently won the opportunity to participate in a nationwide contest: American Family Insurance High School Slam Dunk & 3-Point Championships. The entire North community cheered her on and voted her through.
"My parents have been my strongest supporters throughout my high school career," said Williams.
In addition to Williams dominating on the court, she also credits basketball to helping her grow off the court as well.
"Basketball has affected my life in many different ways. It has helped me become a better person and taught me how to persevere in life. I love [basketball] because it teaches me life lessons and to work hard," said Williams.
Though Williams is the one executing such impressive talent, her raw skill isn't the only reason she's at this point.
"My parents helped me excel by giving me words of encouragement and constructive criticism to help me become a better player. And I have helped myself stay motivated by just playing the sport I love and working hard at it," said Williams.