Parkway High Schools Get New Schedule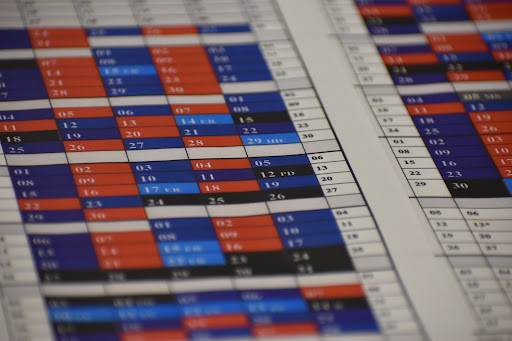 Over the past two years, teachers from all over the school district have been working to come up with a new schedule that all Parkway high schools will be able to follow. This year, that schedule was implemented.
"In the fall of 2019, Dr. [Tori] Cain asked five teachers from North to be on this committee, and there were five people from each high school. Each teacher was from a different discipline, such as math, science, world language, fine arts, etc. They called the committee the Parkway School District High School Schedule Advisory Committee," said North High's English teacher Melissa Pomerantz.
Pomerantz worked with Jennifer Mueller, Brian Reeves, Jim Parks, and Megan Yemm from North, as well as five teachers from each high school in the district, to discuss aspects of the schedule that they wanted to keep, as well as parts they wanted to add.
"The task was to get everyone on the same schedule because they [Parkway administrators] wanted to be able to share teachers more easily, and eventually be able to allow students from other schools the opportunity to take a course that might only be offered at one of the high schools," said Pomerantz.
The challenge in getting all four high schools on the same schedule was that each school had very different schedules. North High and South High had similar schedules and shared some staff already; Central High had something similar to what we have now, and West High gave their teachers the ability to choose whether they wanted to be blocked or meet every day. At the time, West High didn't have Aclab.
In navigating all these differences, each school was given the ability to come up with a few "non-negotiables," or things that their school thought was necessary to keep or add, as well as constraints (start and end time had to remain the same). North and South said that academic lab needed to be kept. West said that they wanted to see their kids at least three times a week. This idea seems to be where the "All" days stemmed from.
Senior Darragh Hindrichs said, "I personally don't like the 'All' days because classes are super short, so you don't get very much done. It also doesn't work very well with Spark! because you would go to Spark!, go to a different class, and then have to go back to Spark!"
However, the committee members didn't really have a choice when creating "All" days since West teachers had requested that they see their students at least three times a week in a five day week. This meant that when creating the blocked schedule, there had to be a day where all classes met; otherwise, the three-meeting requirement would not be met. 
"It was a lot of negotiation. Nobody walked away completely happy," said Pomerantz.
In an attempt to be mindful of teachers who are part-time employees and teachers who teach at more than one high school, committee members proposed "odd" and "even" days in order to keep each class at the same time of day on all days. But of course, as one fire is put out, another one shoots up.
"Unfortunately, those teachers just have to deal with the limited time in the classroom. However, we had faith that they would find meaningful things to do on those days," said Pomerantz.
Still, there are aspects of the new schedule that students are enjoying. Senior Sam Disbrow likes the fact that there is more consistency in the schedule from week to week.
"I like that most of the time the weeks follow the same structure of A, O, E, O, E. I also like the extra minute of passing time and the study hall that is created due to the longer lunch, but that is less important to me than it might be to other students," said Disbrow.
Hindrichs agrees that the extra minute of passing time is a nice bonus for students.
"It makes it so that I'm not as stressed when getting to classes. For instance, if I'm downstairs and I need to get to the other side of the school, it helps create a less stressful environment," said Hindrichs.
Overall, students seem to be a little uneasy about the change in the schedule. There is a lot of confusion surrounding the question of why Parkway didn't keep North and South's schedule and just change two schools' schedules, as well as the disorientation that comes with the odd and even days. Yet, as students adapt and get used to it throughout the year, it might become second nature.