Poetry Club Brings Back 'Grapevine'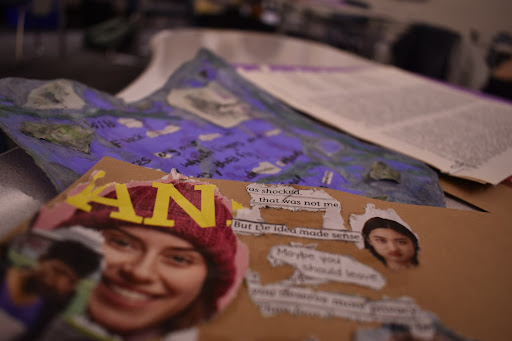 Roses are red, violets are blue, Parkway North is bringing back the old with the new. Parkway North Poetry Club, also known as The Savage Stanzas, is bringing back an old staple to North: "The Grapevine" literary magazine.
The magazine, which is a collection of student-based poems, short stories, photos, drawings, and artwork, hasn't been published in almost twenty years. The Poetry Club will be looking for student submissions very soon.
"I think poetry is a way to express a lot of creativity and emotions that a lot of people don't get to explore in other kinds of art," club sponsor English teacher Jasper Joyce.
North High's Poetry Club has been around for as long as Joyce can remember.
"The club was going before [Covid]. Mrs. Pomerantz ran [Poetry Club] before, and it was a lot more focused on slam poetry and performance in previous years," said Joyce.
The club meets every Tuesday at 2:45 p.m. in room 2215. The group gathers and gets straight to business coming up with ideas to improve the magazine, get the word out about the club, and share possible content for it.
Sophomore Riley Gibbons especially loves the environment because of how many creatives are working together, giving students an opportunity to meet people with similar interests they might not have known.
"There's just so many people [at North], so it's hard to give everyone a spotlight and let everyone express themselves fully," said Gibbons.
Bringing back "The Grapevine" will be an opportunity for all types of creative students to showcase their creations.
"I think The Grapevine is amazing, and it's going to be amazing because there are so many amazing artists here at North. It's going to give all these artists opportunities to be seen and heard in ways they weren't before," said Gibbons.
The Poetry Club will be hanging posters with information about how to submit a piece for "The Grapevine" and when submissions are due. Look for information in the halls.
In the meantime, students who are interested in helping with the production of the magazine or would like to share their ideas about poetry can meet in Joyce's room after school on Tuesdays.

video by Preston Brueckmann, Riley Gibbons, Charrell Jamison, Bella Walker