Daredevil Hits the Bullseye With its Third Season on Netflix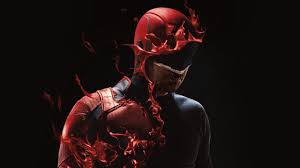 Jack Wright, Staff Writer
October 29, 2018
The third season of "Daredevil" has brought a return to form for Marvel Netflix productions. With beautiful and symbolic cinematography, compelling and layered plotlines for every character, tremendous performances from Charlie Cox (Daredevil) and Vincent D'Onofrio (Wilson Fisk), and amazingly choreographed action scenes, "Daredevil" season three brings the best representation of this hero the screen has ever seen.
Inspired by Frank Miller's "Born Again" comic book storyline, Daredevil tangles with his own faith in justice, god, his friends, and himself while the maniacally genius Wilson Fisk moves the chess pieces of the criminal underworld and the FBI to reunite with his love Vanessa, played by Ayelet Zurer. With the help of Karen Page (Deborah Woll) and Foggy Nelson (Elden Henson), Daredevil fights to bring Fisk and the new villain Bullseye (Wilson Bethel) to justice.
The cinematography in the Daredevil Series has always been superb and this season it only got better. Whether it's a one take long shot of a brawl through a prison, (yes that happens, it's epic) or dialogue between two characters that becomes more gripping with close up and cleverly timed cuts from one character to the next, cinematographer Christopher LaVasseur presents every bit of grit and heart to the eyes of the viewer that they could ask for.
Taking full benefit of 13 episodes, Daredevil fleshes out every character on screen, leaving this moral grey area in all of their actions that make the audience actually care and think about every decision. This couldn't be put to better use than it was with Bullseye's character Arc, arguably a corny villain to be put into such a gritty cinematic experience, the viewer sees every step this character takes into madness making him so much more believable.
Cox and D'Onofrio truly brought their A game this season. Cox brings out the feeling of a broken man putting the pieces back together. All the spite and heartbreak in his voice makes his dialogue hit hard as his punches. D'Onofrio displays the cunning of someone known as the Kingpin. Nothing but power and intelligence spew from this performance, as Fisk seems to be one step ahead of everyone else the entire season.
The thing that really ties the ribbon on this season is the fight scenes. From an epic prison brawl to the one on one fist fights, every punch is real and brutal. Bullseye impersonates Daredevil during the season, making their fight scenes seem like a battle over Daredevil's own soul. Epic brawls and men getting thrown through walls really was the icing on the cake this season.
The one flaw that stuck out this season is very minor. Sometimes when Bullseye throws things, it gets a little corny. However, that's a very small issue with an epic character study.
Daredevil season three has sparked interest in Marvel Netflix shows and what they could be. This season brought the best live action representation of "The man without fear" the screen has ever seen. Daredevil season three deserves a 9/10.