Staff Gains Second Victory In Annual Basketball Game
Hang on for a minute...we're trying to find some more stories you might like.
On Friday, Feb. 1, North hosted a students v.s. staff basketball game during Academic Lab, coinciding with Dunk Out Cancer Awareness Week, and raised $548 for the Siteman Cancer Center, a cancer treatment and research facility. The staff won, for the second year in a row, with a final score of 37-33.
"[Losing] didn't really matter to me," said senior Lucian Thibodeaux. "It was funny watching everyone play."
Spectators paid $1 to watch the game, but players were not required to pay. Students also had the opportunity to purchase a shirt prior to the game for $15 to show their support for the fight against cancer. Multiple colors were offered to support specific types of cancer. All proceeds were donated to the cancer center.
"These games are a good way to raise money because they are fun and usually get a lot of people to go," said senior Etai Dean.
Sophomore Michael D'Alfonso said, "I forgot to purchase a shirt; I'm planning on getting one next year.
There were no requirements to play, and academic lab teachers relayed information to students who wanted to participate. All grade and ability levels were able to play. There were a total of 15 teachers and 15 students. The game lasted 45 minutes and was played in groups of five on five.
Senior Luke Frankenfield, who has been involved in one season of basketball with the JCC recreational basketball league and has played volleyball as varsity captain for two years at North said, "Mr. Parks voluntold me, so I did it."
Not only did the game raise a lot of money, but it also raised awareness and allowed students to get to know other students and teachers on a non-academic level.
"[These events] help build a sense of school pride that your school is trying to do something to help other people outside of your community and the benefits are bringing classes together in a sort of commemorative way while helping other people who might be unlucky with certain circumstances within their lives," said senior Thibodeaux.
Although the teachers were victorious, the students ran a tight game. Junior Emmanuel Dean scored two three-pointers, much to the excitement of the students and staff watching.
"The most exciting part was watching Manny [Emmanuel Dean] drain a rainbow moonshot three that nearly went through the rafters, and he did it twice. He came down at the three-point line and the crowd went crazy. He was in the king of the court," said staff participant Scott Moeller.
About the Writer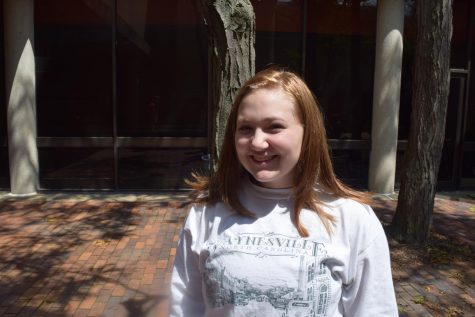 Mercedes Nesbit, Editor-in-Chief
Hi, I am Mercedes and I have been on the Norsestar newspaper for three years. I am currently the Editor-in-Chief, and I have enjoyed working with the...