Girls Varsity Swim Team Places 3rd at Rockwood Summit Conference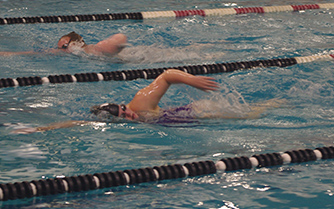 Hang on for a minute...we're trying to find some more stories you might like.
On Friday, Feb. 1 at 4:45 p.m., North's varsity girls swimming and diving team attended the Suburban Red Swimming and Diving Championship at Rockwood Summit High. The team participated in 12 events, consisting of relays, swimming laps of varying distances, and diving. North finished in 3rd place, among nine competing districts, with Webster Groves High taking 1st place.
"In general we did well," said assistant coach Dawn Newport. "3rd place is what we were aiming for and that's what we got."
The swimmers have been training all year to prepare for their competitions.
"We practice six times a week, two hours every day," said senior Nicole Campbell. "Our coach tells us to eat healthy and get some rest."
Senior Meagan Sotolar is the captain of the swim team and felt that her team's hard work paid off.
"We have been working all year for this, and to see everyone do well made me so happy," said Sotolar.
Originally, the preliminary events were scheduled the day prior, but due to the inclement weather on Jan. 31, the schedule for the swim had to be adjusted.
Senior Morgan Arnold received a diving score of 270.3 at the Conference and has also received a State Consideration. This means she was close enough to the automatic state score, so if there is a spot that is unfilled with automatic state times or scores, then the diver will be able to participate.
"She will have to wait and see if her score will be enough to let her compete at State level," said Newport. "In general. I expect we will have girls going to State.  How many will be able to go is yet to be determined."
With the Conference over, members of the swim team have turned their focus towards the upcoming State Meet, Feb. 14-16 at St. Peters Rec-Plex. Swimmers will find out in the next week whether or not they have secured a spot. State accepts swimmers individually, so it is important that multiple are accepted in order to compete strongly at State.
"Teams as a whole do not compete at the State level in swimming and diving," said Newport. "The more individuals that place at State means that some team will have more swimmers /divers and therefore more points at State – so they win State as a team."
About the Writer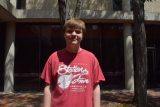 Tanner Boyd, Writing Wizard




My name is Tanner Boyd, and I am currently a Writing Wizard for the Norsestar paper. I joined the staff last year as a Junior, and have enjoyed...