PNH Cheer Prepares for Upcoming Season After Big Wins at SEMO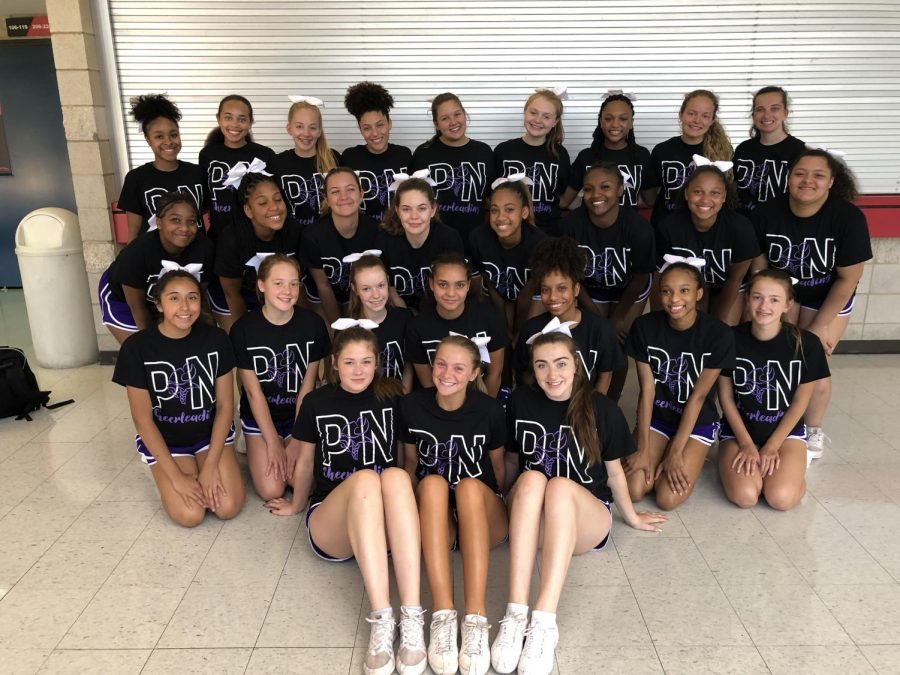 July 17-20, both the junior varsity and varsity cheer squads attended the National Cheerleaders Association (NCA) camp at Southeast Missouri State University (SEMO). During the camp, both squads received many accolades, including the selection of five girls to join the All-American cheer squad.
All-American cheerleaders have the opportunity to perform at the Macy's Thanksgiving Day Parade or at Walt Disney World for the Citrus Bowl during New Years. The cheerleaders selected from North were seniors Maddie Pack and Gwendolyn Dempsey, juniors Cici Thomas and Autum Williams, and sophomore Mackenzie Dixon. 
"I've made All-American the previous two years, so it was a goal of mine to make it again my senior year. I was very happy to have met my personal goal at camp," said Dempsey.
To be selected as an All-American, a cheerleader has to be nominated throughout cheer camp for excellence in one of six categories: jumping, tumbling, leadership, dance, motion, or stunts. After nomination, candidates must perform a routine of three consecutive jumps and a cheer learned just 12 hours prior to try-outs. "The girls would work intensely from 7 a.m. to 9 p.m. each day, get an hour break, then have team building for another hour and a half. The camp was quite exhausting," said coach Lindsay Melnick who is a former North cheerleader.
Despite possible fatigue from each day's activities, both the junior varsity and varsity squads did well in competitions, winning first place in all four competitions they entered. 
The team hopes to improve and continue to do well at competitions this year. Last season was the first time North cheerleading went to competition in over five years. 
"This year, we already have our 'lib' which is a stunt none of our squads have been able to complete in the last three years," said Melnick.
A "lib" or liberty is a stunt in which a cheerleader called a flyer is hoisted high above the ground, holding a pose with both arms and a leg held up. The early completion of this stunt gives senior and varsity cheerleader Ana Luiza Pancini some excitement for the upcoming season.
"I honestly think this is going to be the best season yet. This summer we've been so ahead of previous years. Everyone has such a drive for cheerleading and really wants to improve," said Pancini.
Pancini, Dempsey, and Pack are all taking on leadership roles this year.
"This year, I want to encourage all the girls to try new things, and I want them to feel comfortable coming to me with any problem," said Pancini.
Coach Melnick shares Pancini's optimism regarding the outlook for this year.
"We have a great group of girls who are willing to work hard to attain new skills," said Melnick.
About the Writer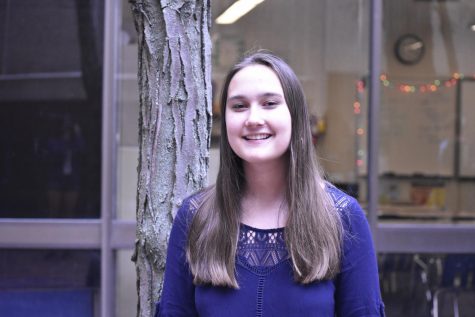 Madeline Fischer, Editor-in-Chief




Hi! My name is Madeline Fischer and this is my 4th year on Norsestar staff!  This year I'm very excited to be editor and improve our publication...