Parkway United Ultimate places fifth at State
This May, Parkway United Ultimate, the co-ed ultimate frisbee team for the Parkway District, tied 5th in State.
"I think our wins and losses didn't really represent how good our team really played. We were like a first year team, mostly," said freshman Dakota Tritinger. "Our growth was really good. And we had a lot of good players on there," 
The team is part of the St. Louis Ultimate Juniors High School Spring League and is the only team in the league that includes students from the middle school, making it one of the youngest teams in the history of the tournament.
"We're a young team so our biggest area of improvement is overall experience playing strong competition," said Central High School's sophomore Caleb Dorsch, who plays for the team.
Like other sports, the ultimate team has faced struggles including having seasons cut short or canceled due to COVID.
"Our season was canceled after one game in 2020. We went 1-0," said coach Isaac Pearlstone.
This year, the team was 7-7.
They would also like to have more players come out to play. Currently, only one student from Parkway North, Tritinger, is on the team.
"It's a little weird [being the only player from North on the team]. They're all from different schools. But it's nice to get to know them and meet more people who are not in our school and from the other schools in the district," said Tritinger.
The team began practicing in February and played its first game in March, playing 31 games total this season.
Because members of the team are from all over the district, they met at Central to practice, since it is in the middle of the district. Parkway United Ultimate has both a junior varsity and a varsity team, but they practice together.
"My dad has played for a long time, and we've thrown since I was little,"  said Dorsch. "As a sixth-grader, I went to watch the state tournament, and the next year I started to practice with the Parkway high school team,"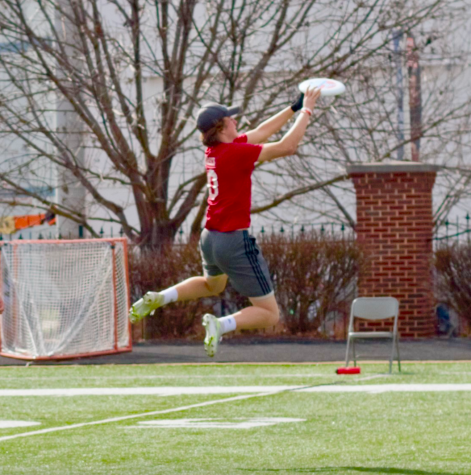 The team is not new to Parkway, but is rising in popularity as ultimate frisbee is gaining recognition in Saint Louis and around the country, with over 20 high school teams in Saint Louis alone.
"Parkway North won the state championship in 2006. I believe that was the first year Parkway had a team. There have been various Parkway teams since then but our current team, Parkway United, began ten years ago," said Pearlstone.
There are many opportunities to play including pick-up games, competitive tournaments, and camps.
"My favorite thing about playing ultimate is that it's fun to play on competitive levels, like the state tournament or the all-area (Youth Club Championships) team, but it's also a ton of fun to play with a group of friends, even if they're inexperienced. All you need is a field and a disc," said Dorsch.