Wish Review
Online shopping has become a more common and convenient way for people to shop, especially while still in the comfort of their own home. Starting as early as 1994, sites like Amazon and eBay have blown up and become popular ways for people to both buy and sell items.
Wish is an online platform that began in 2010 to allow customers to buy products for cheap. While the categories of items that the site offers is endless, from jackets and shoes to kitchen utensils, and the prices are cheap, the quality of service was unimpressive.
For women, there are endless options of clothing, health and beauty, jewelry, etc. on the platform. There are multiple shirts, colognes, watches, hats, shoes, etc appealing to men as well.
One thing Wish was definitely not lying about is the prices of the items. Wish is known for having unbelievably cheap deals. For example, there were countless amounts of clothing items, like hoodies and jackets, with the original price of over $30 dollars selling for only under $20 dollars. There are so many good deals selling items that are commonly seen it stores for a lot cheaper.
Although the products Wish offers may be cheaper and easier to buy, buying products off line can be a little sketchy. TrustPilot.com includes reviews from multiple customers that ordered from the app. An unsatisfied customer wrote that the company was a fraud and wouldn't give them their money back. Multiple customers complained that the products that they bought never even showed up, which actually happened to me as well, for I ordered stickers with the hoodie and scrunchies and they were supposed to be delivered with the rest of my order, but they still haven't come yet.
Shipping was way too expensive as well. I bought a total of three things, a hoodie for $8 (originally $27), a set of 15 scrunchies for $11 (at Claires and Icing stores, velvet scrunchies cost $3.99 each)., and stickers for $1. Together, that should have made my order $20 dollars. But instead, because of shipping, I had to pay $15 dollars extra, making it a total of about $35 dollars.
Some of the things Wish offers were also way too underpriced to be true. For example, there is an Apple iPad, which usually range from around $300 to $800, that is only selling for $77. There were also multiple Apple Airpods, selling for under $30 dollars.
Other items were just random. While I was surfing through the site, I saw things like Donald Trump socks, sleeping masks that resemble the eyes of Yoda from the Star Wars franchise, slimming bandages to reduce fat, and more.
Wish also doesn't have a very big variety of hoodies to choose from. The only basic hoodies I saw was a hoodie from the iconic show Friends, and a couple other solid color ones. The main selection of hoodies on the app feature lots of bright patterns and colors, which is good for the people who prefer that style.
The hoodie I purchased matched the picture that was on the site, had good stitching and didn't have any rips or loose threads. It was in pretty good condition. The only things that weren't very good about it was that the Wish site mentioned in the caption under the picture that the hoodie was for winter, but it was fairly thin. You could actually faintly see the shirt under it too.
Unlike hoodies, there were so many options of scrunchies, making the hair accessories one of the most popular categories. I was actually very happy with this item. When I decided to get these, I was ready to expect a very cheap material, barely usable scrunchie, mainly because I thought that a 15 pack of velvet scrunchies for $11 dollars was too good to be true, but I was wrong.
The scrunchies came in a small pouch. The fabric of each scrunchie was thick and was actually a good type of velvet material, not like the fake and cheap type found in dollar stores. They have a good hold on the hair and came in really nice, subtle colors.
One thing to know before buying off of Wish, for some reason my order didn't come together.it all came separately. The scrunchies came first, then a couple days later the hoodie came. Besides the separate shipments, each item I got was packed very well in multiple layers of material to protect it.
The whole process of browsing the Wish website, buying the items, and waiting for the items I bought to be delivered, was a whole different experience than buying items from, say, a more known and trusted site like Amazon.com. But besides that, at the end of the day Wish did provide me with items that I bought, although the stickers still have not arrived. In terms of the actual products, they were good for the price of them. The fabric and material was good. The stitching wasn't messy, and the items didn't look used or worn. Overall, I give Wish.com a 7/10.
About the Writer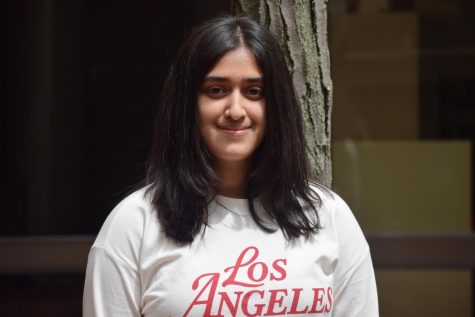 Zainab Khan, Radical Reviewer
My name is Zainab and I'm a junior. I've been a part of the Norsestar staff for three years now. This year, I hope to learn new skills and become a...