Samsung S21 Review: A Premier Flagship for a Reasonable Price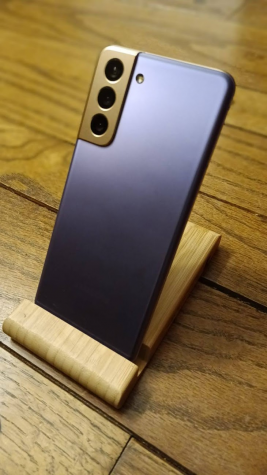 A new year means new technology, and Samsung has come into 2021 strong. The Samsung Galaxy S21 was released January 15s, bringing in new competition against Apple.
Perhaps one of the largest considerations when buying a new phone is the price. The release price of last year's S20 was $999, which turned many consumers away to Apple's less expensive prices. However, this year the phone is more in line with iPhone 12 prices starting at $799.
However, that does mean that Samsung had to cut some corners in order to reduce the price. The glass backing that has become the default for flagship phones has been replaced by a less costly matte plastic. The plastic doesn't feel cheap, just less premium. The matte finish is also less shiny than previous glass backing, which reduces the mark your fingerprints make substantially.
The body design is very simple. On the bottom it has a SIM tray and a USB-C port, along with the speakers, which is standard for most phones. The speakers are pretty good, and produce good sound while listening to music or watching movies and TV.
The phone comes in four colors: violet, pink, dark grey and white. The pastel purple is an especially good looking color.
One particularly controversial downgrade of the phone is the display. This year Samsung opted out of the 1440p display of the S20 in order to cut costs, instead replacing it with a 1080p alternative. This choice isn't great, but it allows Samsung to cut the price by a lot which some consumers may prefer.
However, it still boasts a 6.1 inch Dynamic AMOLED display, with a 2400 x 1080, 120 Hz display, that has 424 pixels per inch, all of which are incredibly vibrant. It has great brightness and performs well in the sun as well. The 120 Hz refresh rate makes scrolling and watching videos very smooth.
Included in the bottom of the screen is a built-in fingerprint scanner. This is one edge that Samsung has over Apple, and it has improved even more this year. It is 70% bigger than last year's model, and it is much faster at reading the fingerprint. It is still slightly slower than physical scanners that can be found on other phones, but having it built into the screen makes up for it.
The chipset is the all new Snapdragon 888 processor, boasting eight cores running at 2.84 GHz. It also has 8 GB of Random Access Memory, which performs very well. It is great for everything from browsing the internet to playing high performance games.
Possibly the most significant feature for new phones each year is the camera. However, the S21's camera has the same hardware as Samsung decided to focus more on the software.
It has three cameras arrayed in what Samsung calls the "contour cut camera", a divisive change. The cameras are aligned vertically, with a 12-megapixel main camera, a 12-megapixel ultrawide and a 64-megapixel telephoto lens. These three cameras combine to make a very versatile lineup that is great for any range, any time of day, and any condition.
The standard camera is great for taking all kinds of photos. One of the highlights is the portrait mode, which does an amazing job of isolating the subject and minimizing noise in the background. It does a great job of automatically focusing on subjects. One feature that really stands out is the night mode. The camera does a great job of adding light and reducing visual noise. However, the photos do end up slightly whitewashed.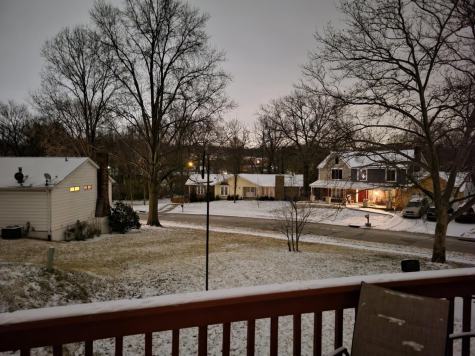 The video from the main camera is fantastic. It can capture 4K video at 25 frames per second or 1080p at 120 frames. Having the option of both is great because different scenarios call for different resolutions. For example, the 4K video is great for nature videos or produced videos, but the 120 Hz mode is ideal for fast pace shots such as sporting events.
The wide angle lens isn't particularly remarkable. It gets the job done, but looks fish-eyed sometimes.
The truly remarkable feature of the camera is the telephoto lens. Unlike Apple, who simply uses digital zoom, the telephoto lens is dedicated for large zoom. The lens boasts a versatile and stunning 3x-30x. However, after about 10-15X, it starts to look a little blurry.
One new feature of the phone is the director's view mode, which allows people to record with both the front and rear cameras simultaneously. This is intended to help vloggers and other content creators capture themselves and their subjects at the same time.
Overall, the S21 is a great phone. It's price point puts it into contention with Apple, and it has a great camera and processor. I would heavily recommend it to someone looking to upgrade from an older phone, but I would not recommend it to anyone with an iPhone 11 or Galaxy S20 since there is not enough of a difference in performance.