El Toluco Taqueria: Great authentic Mexican food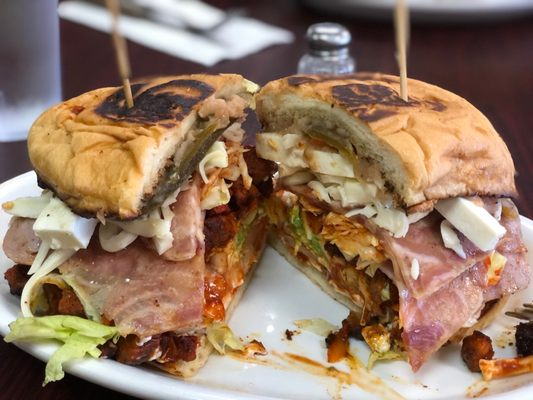 Here in Saint Louis, it is often difficult to find authentic Mexican food. But tucked into a small strip mall off of Manchester round lies El Toluco Taqueria and Grocery. From the sidewalk, there doesn't seem to be anything particularly special about it, and it is very easy to miss altogether. 
But the small, family owned restaurant is something of a hidden jewel. Saint Louis residents would be hard pressed to find food of the quality that is served there. 
Owned by Maggie and Fausto Pizarro, El Toluco opened its doors in 2016 as a Mexican grocery store, but opened the restaurant a few months later in December. The small grocery contains many Mexican seasonings and ingredients that would be difficult to find in a larger store, such as cactus fruit and other traditional foods. 
After you walk through the store, you enter the restaurant, which is little more than a handful of tables and chairs. Diners should not expect much in the way of decor, as it is mostly bare other than a few pictures on the wall and sacks of rice piled up in the back. 
But the magic has little to do with the furniture. The menu is not large and is made up of tortas, tacos, quesadillas, and tamales. There are many options when it comes to meat including Carne Asada beef, Al Pastor pork (my personal favorite), Chorizo sausage, Lengua beef tongue, and more. Every option is marinated or otherwise prepared and cooked in house, which is evident from the delicious smells that come from the kitchen.
Every time I have gone, the service has been very quick, and my food comes out to my table within 10-15 minutes. My favorite dish is the Torta sandwich with Al Pastor Pork. Piled high between a Talera roll, there is such a huge amount of food that the toothpicks that hold it together are more easily described as dowels. There are onions, tomatoes, avocado, jalapenos, Queso Fresco, Oaxaca cheeses, pork, and house made chipotle sauce. The pork is cooked to perfection and marinated in a sauce made from pineapples and spices. The sweetness of the pineapple goes great with the kick from the chipotle and optional salsa verde and roja. 
The sandwich alone is enough to satisfy even the biggest appetite, but the tacos are also a great choice. Like the restaurant itself, they don't have anything that is unnecessary. All it is is the meat of your choice, onions, cilantro, and salsa. However, the simplicity makes it all the better. The tastes do not compete or overpower each other in any way, leaving customers with a fresh, great taste.
Of course, if pork isn't your thing, then look no further than the barbacoa lamb. The shredded meat is so tender it melts in your mouth, and it goes fantastic in the tacos as well as the quesadilla. The Carne Asada is no different, with a great flavor profile that is perfect for just about any of the dishes. 
Overall, if you are looking for a great place to grab a quick and easy lunch, El Toluco is the place. Open from 10:30 a.m.-3 p.m. Tuesday-Thursday and 10:30 a.m.-7 p.m. Friday and Saturday, it is by far my favorite place for authentic Mexican food in the Saint Louis area and is definitely worth the longer drive for those that are further Northeast of the area.