North lacrosse returns for first time since 2019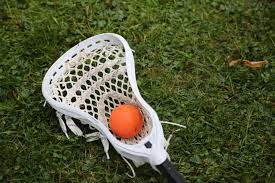 After not being able to play since May 2019, the varsity girls lacrosse team began the 2022 season with a bumpy start with rainouts and a few losses, but given that no one had an opportunity to play in almost three years, it makes sense that this is a rebuilding year.
"COVID and the quarantine has affected the girls lacrosse team over the last couple of years," athletic director Corey Johnson said.
Restrictions due to COVID caused many games during the previous two seasons to be cancelled. The team then lost several members due to inactivity and a smaller pool to draw from since the student body has decreased.
"We went from having over 30 players to having less than 20. However, the team is growing rapidly again," said Johnson.
In the early practices, new players learned how to play and more experienced players continued to improve their game. Yet, their first game against Rosati-Kain did not go as hoped. North suffered a 16-5 loss to the Kougars. The team went on to lose their next two games as well, but considering North's recent lacrosse history, the team realizes that wins and losses don't mean everything.
"It's [still] fun because I get a chance to connect with my team and build bonds with everyone. Learning a new sport I have never tried is really educational and a great learning experience," freshman Makenna Klepacki said.
From here on out, the team is looking to gel together and play more as a unit.
"I would like to improve my aggressiveness and work more as a team," Klepacki said. "It can be hard to do when you're nervous or anxious at the start of the game."
The coaches are working on bringing the team together by making practices fun while driving home skills.
"Lacrosse has been a great experience, and I have enjoyed playing this season," Klepacki said. "The coaches are wonderful and practice is super fun and educational."
The team's current record is 0-3, but they're excited to have the opportunity to play.
"After not playing for two seasons, the team has been very excited to now play games again," Johnson says. "It's great to have the program back."
The team is looking to improve but are also enjoying their time together. They are hoping their hard work will translate to their next game against Hazelwood Central on April 14.