Students Make Stand To Open Band Room During AcLab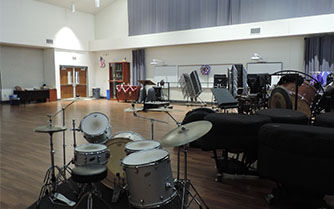 Last year, during academic lab, the band room was bustling with energy and music as students filled the rooms to practice for their next performance. Last spring, a student was caught juuling in the band locker room, which was unsupervised, and in response, students are no longer allowed into the band rooms during AcLab since it, too, is unsupervised.
"The band room is not available for students during academic lab on a regular basis. There's no band staff or teachers available on a regular basis. On occasion, we have had an extra rehearsal. AcLab time is not a time I am assigned to the band room and Mr. Lynn, the other band director is not even in the building," said band teacher, Andrew LaRose.
Due to the lack of supervision in the band room this year and the actions performed by the students last spring, the administration decided it would be best to not allow students in the band room during AcLab. This is reasonable, but should be changed so that the band room is open and supervised so students can practice during lab.
Without the extra time to practice during AcLab, the bands performance has been negatively affected.
"Recently, we had our marching band season, and it didn't go very well. We didn't [place as high as we have in the past] in any of our competitions because our music was very difficult, and we needed more time to rehearse together as a whole group other than E-hour or during class or after school. Previously, we had time to have individual sectionals with band teachers around, but we didn't have that time [this year] and our performance struggled," said senior, Jack Wright.
Extra stress is added as band is not just an extracurricular activity, but it is a class that students take for credit.
"This is still a class, and we still get a grade for it. It takes a lot of work to practice our instruments. [AcLab time to rehearse has been taken away] and a lot of people can't stay after school. We have large instruments that they can't take home, so a lot of people are losing time for practicing that they need," said junior Kaycie Poyser.
Students believe the current situation is unfair and hampers their ability to be their best and do well in school.
"We feel like if other classes have access to their [teachers during] AcLab to work on their craft, we should also have the opportunity. If I was struggling in math, I should be able to go into that class and work on math. If I'm in band and am struggling, I should be able to go into band and work on that," said Wright.
In response to taking away the AcLab, band students have created a petition to set things in motion. This is led mainly by the seniors of band.
"We made a petition that's gotten around 200 signatures. We have written Dr. Cain a letter. We have gotten no response from Dr. Cain and if it continues without any response, we are probably going to take it to the district. Parents, alumni and even other students from other schools who are in different marching bands…have signed the petition," said Wright.
Since the current set up during AcLab is not fair and effects band students in a negative way, the administration needs to figure out how to provide band students with a safe, supervised place to go during AcLab to practice together.
About the Writer
Sara Hong, Assistant Editor
Hi! My name is Sara and this is my third year in Newspaper. I work as an Assistant Editor. I'm really into plays, musicals, and all that jazz. I was...